Agreement on contract for seafloor sulfide mining project off Papua New Guinea
Monday, January 4th 2016 - 11:16 UTC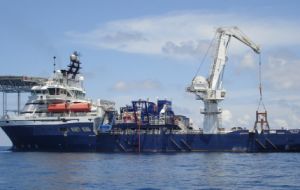 The world's first seafloor massive sulfide mining project contract has been signed between Nautilus Minerals Inc, a mining company with headquarters in Canada and Tongling Nonferrous metals group, a state owned Chinese company.
Under terms of the contract the extracted sulfide from the Solwara 1 deposit in the Bismarck Sea, off Papua New Guinea, will be sold to Tongling, with delivery expected in the first half of 2018.
Nautilus Minerals from Toronto is the first company to commercially explore the seafloor for massive sulfide systems, a potential source of high grade copper, gold, zinc and silver. As of October 2010, Nautilus has been preparing to commence production utilizing a newly constructed mining ship.
Tongling is a state owned enterprise involving in extracting copper resources and smelting copper and other non ferrous minerals. It is one of the largest companies in China. Tongling Nonferrous metals group was established in 1992[ and listed on the Shenzhen Stock Exchange in 1996
On April 21, 2012, Nautilus and Tongling entered into a binding heads of agreement for the sale of the product extracted from the Solwara 1 deposit.
Following a series of detailed negotiations focused on achieving a mutually beneficial and workable arrangement, the parties finalized the terms of a new take or pay agreement, referred to as the Master Ores Sales and Processing Agreement, which replaces the terms of the HOA. The MOSPA will be filed under the company's profile on the SEDAR website.
Mike Johnston, Nautilus' CEO, said "This new agreement provides improved terms for both Nautilus and Tongling and can be truly described as a "win-win" outcome. The MOSPA gives greater flexibility to Tongling with respect to its operations, while providing Nautilus with certainty and an improved Net Smelter Return. I am delighted to be continuing our relationship with Tongling as a key business partner supporting the development of the world's first Seafloor Massive Sulphide mining project."