Chinese jigger heading for South Atlantic catches fire in Montevideo port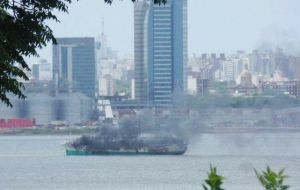 A Chinese jigger flying a convenience flag and ready to leave Montevideo for the South Atlantic fully provisioned suffered a serious fire which apparently started in the engine room and rapidly spread to the rest of the vessel.
The forty-crew members were taken ashore late Saturday night and the vessel has been tugged out into the bay where special squads are trying to combat the fire but careful not to sink her with too much water.
The other major challenge is that the vessel was fully provisioned with 300 tons of fuel.

"We're waiting for the fire to consume which we estimate will take the whole of Sunday and a few extra hours. But we have to be careful since if we keep pumping water and the vessel sinks we'll have a major ecologic disaster", revealed Ricardo Piriz the spokesperson for Montevideo's Fire Department.
"We received a first call of emergency late Saturday and since then we have been on the spot, rescuing the crew and trying to avoid a catastrophe. What is certain is that the vessel is a complete loss", added Piriz.
Apparently the vessel was also carrying 62 cylinders with different gasses which "could have generated a chain explosion" and definitively damaged the structure of the vessel, but "fire fighters managed to take them out on time".
Piriz finally said that a crew of eleven fire experts are closely following the situation, "I imagine that tomorrow (Monday) we'll have a better idea of what really happened".