FIFA recommends nine-year ban from football for secretary general Valcke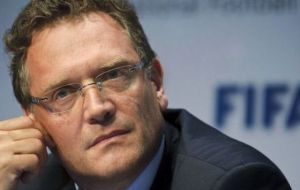 FIFA investigators have recommended a nine-year ban from football for suspended secretary general Jerome Valcke for seven alleged ethics violations. Suspended in September over allegations linking him to a 2014 World Cup ticketing scam, Valcke's provisional 90-day suspension expires on Tuesday.
It coincided with the conclusion of the FIFA ethics investigators investigation into allegations the Frenchman was involved in a scheme to sell Brazil 2014 tournament tickets at three times face value and take a cut of the profits. At the time, Valcke, 55, denied what he called "fabricated and outrageous accusations".
But FIFA's top investigator Cornel Borbély has a different point of view, recommending a nine-year ban and a fine of CHF 100,000 ($99,000) for Valcke.
Alleged code of ethics violations include: general rules of conduct, confidentiality, duty of disclosure, cooperation and reporting, conflicts of interest, offering and accepting gifts and other benefits, and general obligation to collaborate.
Valcke was also under investigation for his involvement in signing off $10 million to FIFA's disgraced former vice president Jack Warner, a transaction that forms part of the US-led FIFA bribery probe.
The $10 million was touted as a donation for South Africa's 'Diaspora Legacy Program'. A letter from the South African FA (SAFA) to Valcke, which emerged last June, offers clear instructions for the payment to be "administered and implemented" directly by Warner, who was at that time deputy chair of FIFA's finance committee.
Warner, the former head of CONCACAF, was among 14 FIFA officials and marketing executives charged by the US justice department last May with involvement in a $150m scheme of bribes and kickbacks spanning at least two decades.
On Tuesday, Borbély handed over his report together with the recommendations to FIFA's top judge Hans-Joachim Eckert, who will deliver the final verdict in the coming days. He also requested an extension of Valcke's suspension from all football-related activities for a further 45 days.
"Until a formal decision is taken by the adjudicatory chamber of the ethics committee, Mr Valcke is presumed innocent," said a FIFA ethics committee statement.
Outgoing president Sepp Blatter and UEFA chief Michel Platini were handed eight-year bans in December following an ethics investigation into the "disloyal" $2.1 million payment Blatter signed off to Platini in 2011 for advisory work carried out by the Frenchman between 1998 and 2002. Both are appealing the bans.