Macri will become first Argentine president to attend Davos forum in twelve years
Thursday, January 7th 2016 - 08:17 UTC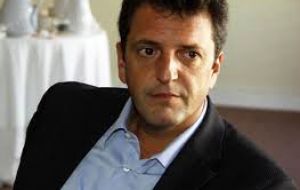 For the first time in twelve years and Argentine president will be attending the World Economic Forum in Davos, Switzerland that runs between January 20-23. President Mauricio Macri will be present together with ally Sergio Massa, leader of dissident Peronist Renewall Front, in order to attract investment.
The Davos conference gathers the world's leading business and political leaders. The last president to attend the event was Eduardo Duhalde, Argentina's caretaker president in 2002-2003.
President Macri who before entering politics led his family's companies, is now scheduled to hold several meetings with some of the world's most influential business leaders, only two weeks after lifting capital controls and cutting export taxes with the aim of transforming Argentina into a more free market economy.
The fact that Macri will be travelling with Massa, who was specially invited, gives an idea of the support role played by the opposition Renewal Front leader in their first month in power.
"For us it is an important gesture to be able to travel together with a opposition leader (Massa), who is working in a responsible way, who makes his complaints but at the same time is conscious of the challenges Argentina faces" said Cabinet Chief Marcos Peña.
He highlighted that the two leaders needed to work together to build confidence, which will generate more investment so they can achieve Macri's "zero poverty" campaign promise.
For his part, Massa (a dissident Peronist and former presidential candidate who was third with 21% of the vote in October's presidential election) made it clear that he wouldn't be accompanying the new president as the representative of his party — but solely as an Argentine.
"I'm accompanying the president so that we can both, with Argentine jerseys, attract investments that will create jobs for Argentina, and confront inflation," said Massa in an interview. He highlighted that the purpose of the opposition parties should not be to block things. "We need to be responsible, to propose instead of obstruct," he said.
The Renewal Front leader recalled how his party supported Buenos Aires province Governor María Eugenia Vidal's budget last week, which has been opposed by the Victory Front (FpV) caucus in the provincial legislature.