Princess Anne in the Falkland Islands laid a wreath at Liberation Monument
Wednesday, January 13th 2016 - 03:51 UTC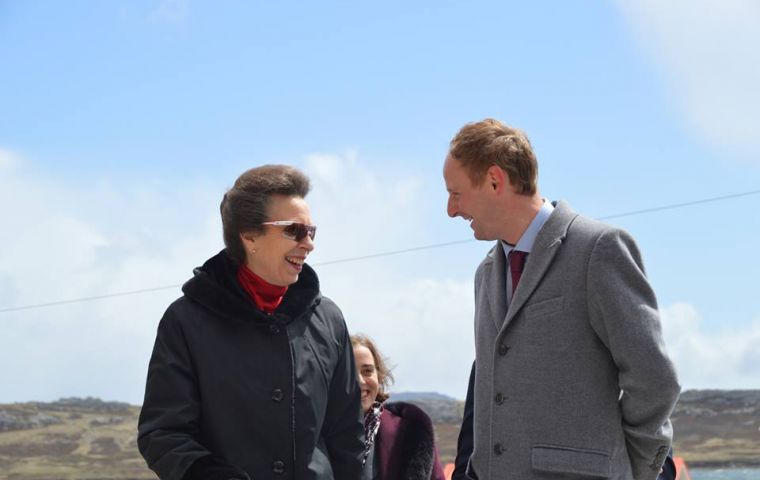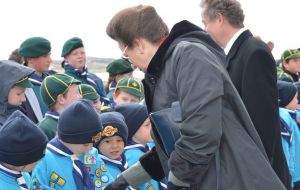 Due to adverse weather, the timings for the two events which were due to take place in the Falkland Islands later this month on the occasion of the visit of HRH The Princess Royal Anne and Vice Admiral Sir Tim Laurence took place on Tuesday in Stanley.
The first event was a wreath laying at the 1982 Liberation Monument at 10.15am. There was a short service, led by the Reverend Kathy Biles, at which community groups were also represented.
The second event was the unveiling of a marker for the Commonwealth Walkway at the foot of the steps leading to Stanley's Christ Church Cathedral at 11.15am.
Members of the public attended both events. The Royal Falkland Islands Police closed parts of Ross Road for short periods to allow the events to take place in safety.
Due to the change in program, the visit by The Princess Royal and Vice Admiral Laurence to Fox Bay which was planned for Wednesday January 21 has had to be cancelled.
According to the original program the couple would arrive to the Falklands on 11 January and on their return trip from South Georgia would spend a day in the Falklands, 21 January.
Princess Anne, who is the Royal Patron of the South Georgia Heritage Trust, last visited the Falklands in March 2009 and also two years before that.
Anne, born in 1950 is the second child and only daughter of Queen Elizabeth II and Prince Philip, Duke of Edinburgh.