Argentina needs to reach an agreement with holdouts, insists Prat-Gay
Thursday, January 14th 2016 - 06:54 UTC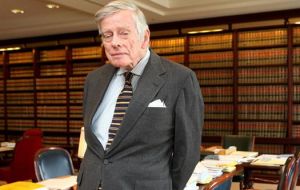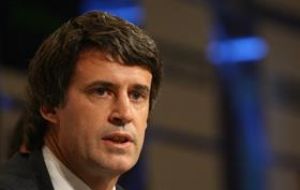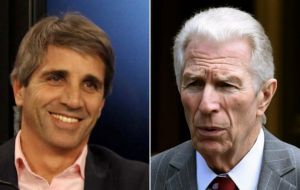 Argentina's new finance minister said on Wednesday it was imperative to resolve the country's legal dispute with U.S. creditors over unpaid debt because financing of the country's fiscal deficit this year may depend on progress on the issue.
Solving the more than decade-long debt battle would enable Argentina to return to global credit markets and stop financing the deficit with the printing presses, a tactic which helped fuel double digit inflation under the previous government.
Finance Minister Alfonso Prat-Gay said the negotiations would be tough but it was in Argentina's interests to reach a deal. The previous government's failure to do so had cost the economy, he said, with creditor claims in New York having risen to $9.9 billion from $2.943 billion originally.
"We're not going to ignore the issue. It's not our mess but we have no problem in cleaning it up," Prat-Gay told a news conference.
Former President Cristina Fernandez had refused to settle with the funds that bought Argentine bonds on the cheap after its massive 2002 default and then held out for better terms when Argentina restructured its debt. They are broadly known in Argentina as "vultures" for picking on the carcass of the economy after the default plunged millions of Argentines into poverty.
Finance Secretary Luis Caputo met with for the first time with the funds on Wednesday in the New York office of the U.S. court-appointed mediator Daniel Pollack for preliminary talks.
In addition to the debt battle, Argentina's new center-right government, which took office in December, also inherited a primary fiscal deficit of 5.8% of GDP in 2015, Prat-Gay said.
"The primary fiscal deficit is at its highest in 30 years," he said. Cristina Fernandez's two terms were characterized by heavy government spending that aimed to boost the domestic economy.
The new government aims to reduce this deficit to 4.8% of GDP this year and 3.3% in 2017, in part by eliminating subsidies for public services for the 30-40% of wealthiest Argentines, Prat-Gay said. Subsidies would be maintained for those who needed them, he added.
The new government aims to bring down inflation to between 20 and 25% this year from 28% in 2015. By the end of Macri's term, in 2019, inflation should be around 5.0%, the minister said.