Argentina targets 25% inflation and fiscal deficit of 4.8% of GDP this year
Thursday, January 14th 2016 - 06:42 UTC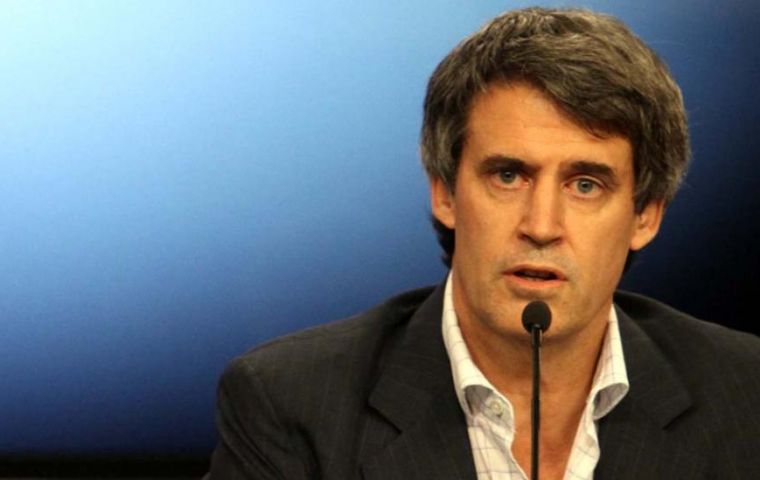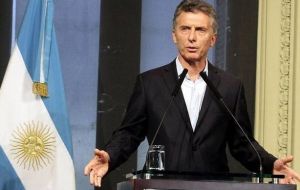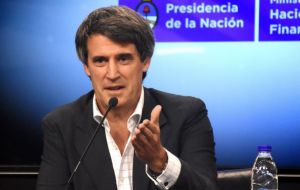 Argentina Finance Minister Alfonso Prat Gay revealed on Wednesday that the fiscal deficit registered in 2015 was of 5.8% of GDP and 7.1% of GDP is all debts are computed, and complained that "there has been wasteful spending and when there is an expense it's not well done."
In a news conference, Prat Gay presented the fiscal plan for 2016, which predicts an inflation of 25% and a fiscal deficit of 4.8% of GDP. He added that Argentina ended 2015 with an inflation of 28%, with the last three months reaching almost 30%. The goal for 2017 is to reduce inflation to between 12 and 17% and to end President Macri's mandate with a one-digit consumer index.
However he admitted "an excessive price hike" in recent weeks and assured the government is addressing this situation.
"I want society to know, this government is addressing this situation," he said warning the new administration found "a notable imbalance of relative prices."
According to the minister, the impact of the dollar restrictions lifting on prices was not as big as predicted by some analysts.
He continued to refer to soy bean export taxes that Mauricio Macri's administration has reduced, saying "we understood regional economies were broken and if that happened, the country will break."
Prat Gay added the government seeks to "subsidy those who really need it," in reference to a subsidy scheme to utility rates imposed by Cristina Fernandez government.
"We are willing to lift subsidies to the 30 or 40% richest sectors of society," he announced. The minister pledged to eliminate the controversial income tax to salaries below 30.000 Pesos and to modify the tax scheme.