Rio mayor confident the city has the funds to host the 2016 Olympic Games
Thursday, January 14th 2016 - 05:48 UTC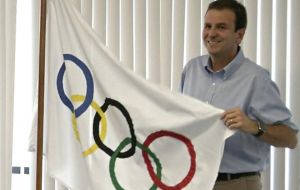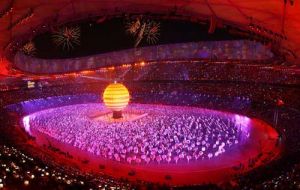 The mayor of 2016 Olympic host city Rio de Janeiro insisted authorities had the finances to avoid disruption to the summer Games despite Brazil's recession. Latin America's largest economy is suffering from a deep recession and soaring inflation -- a contrast to the boom times of 2009, when Rio won the right to host the Olympics.
"We have enough money to make sure everything is presented as it is supposed to be, as you can see here," Mayor Eduardo Paes told reporters, after unveiling an Olympic basketball court.
The International Monetary Fund expects Brazil will stay in recession in 2016 and the World Bank has forecast a 2.5% contraction this year.
Paes insisted the crisis "is not affecting the finishing of the (sporting) installations" in the city's Olympic park, however. He said Brazil would not "plunder" public resources to fund the Games.
"We are not China, we are not England. We are not a rich country. Wherever we can cut the budget, we will," he said.
"The playing fields will be perfect and the spectators' experience will be perfect, but they will not see a stadium like the Bird's Nest," the eye-catching venue at Beijing's 2008 games, he said.
The total budget for the 2016 Games is US$10 billion, with 60% of that coming from private capital, he said.
Anger over public spending on events such as the Olympics and Brazil's 2014 football World Cup fuelled street riots across the country in 2013 and 2014.