Socialist becomes Spain's parliament speaker; no agreement yet on new government
Thursday, January 14th 2016 - 06:33 UTC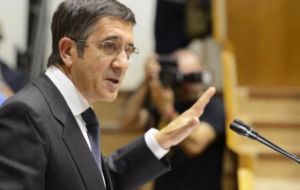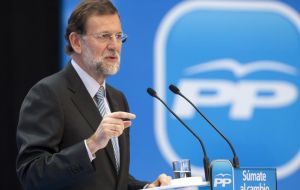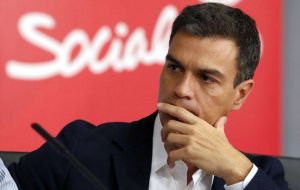 Spain's parliament held its first session Wednesday, with lawmakers from four main parties taking their seats at a time of political turmoil. Lawmakers picked a Socialist, Patxi Lopez, a former head of the regional government of the northern Basque Country, as parliamentary speaker, in the first pact between rival parties still engaged in talks to form a government since last month's inconclusive election.
It is the first time since Spain returned to democracy following the death of dictator Francisco Franco in 1975 that the speaker does not come from the party with the most parliamentary seats.
Acting Prime Minister Mariano Rajoy's conservative Popular Party (PP) won elections in December but without an absolute majority, ushering in weeks of uncertainty as he failed to form a government in the face of resistance from his traditional Socialist rivals and two upstart groupings.
The lower house is starkly different from what it was after the 2011 elections, when it was split largely along traditional conservative-socialist lines.
In the December polls, both the PP and the Socialists (PSOE) lost ground, ending up with 123 and 90 parliamentary seats respectively out of 350 as voters, tired of austerity and corruption, flocked to two new reformist groupings.
Podemos and its allies -- a far-left party that emerged just two years ago on the back of a devastating economic crisis -- and upstart centrist grouping Ciudadanos won 69 and 40 seats each.
To form any kind of government, Rajoy needs the Socialists' outright or tacit support -- which they have publicly, repeatedly rejected.
Rajoy on Wednesday reiterated his call for a pact with the Socialists and Ciudadanos, declaring it could carry out "the reforms Spain needs" and "consolidate the economic recovery".
"The PSOE is the referee, it's the party with the most options," says Jose Ignacio Torreblanca, director of the Madrid chapter of the European Council on Foreign Relations.
Lopez was elected speaker with the votes of lawmakers from the PSOE and Ciudadanos while PP lawmakers abstained.
But despite this agreement among the three parties Socialist chief Pedro Sanchez is still seeking an alliance with Podemos, a close ally of Greece's Syriza, to form a left-wing government.
"Those who voted for Podemos and the Socialists would not understand if we did not reach an agreement," he told news radio Cadena Ser.
Such a coalition still won't have enough parliamentary seats to form the absolute majority that would bring it to power, and this week Sanchez put forward the idea of an alliance with Podemos -- as well as centre-right Ciudadanos.