Petrobras scandal prosecution-informer involves president Rousseff in the scheme
Friday, January 15th 2016 - 09:13 UTC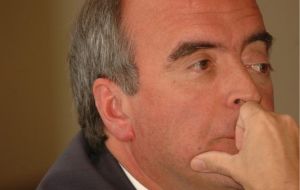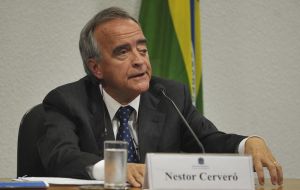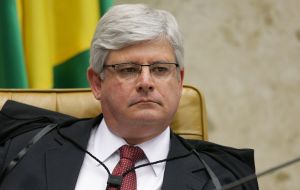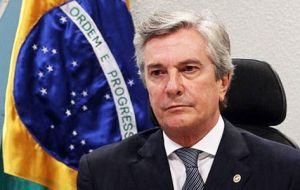 Brazilian president Dilma Rousseff, and three former heads of state have been dragged into the investigation into the huge corruption scheme in the state-run oil firm Petrobras. According to informer Nestor Cerveró, Rousseff was personally involved in negotiations for votes in Congress in exchange for top jobs in Petrobras.
Likewise the government of Fernando Henrique Cardoso, bitter adversary of President Rousseff and her mentor Lula da Silva, received "a US$100-million bribe" to get Petrobras to purchase of private Argentine oil company Perez Companc.
Cerveró, the former director of Petrobras International division, has turned informer for investigators as part of a plea-bargain in which he hopes to receive a sentence reduction. He is currently serving time for his part in another of Brazil's corruption scandals, Petrolao.
The Brazilian Attorney General Rodrigo Janot also said that former president Lula da Siva has been accused of giving Fernando Collor de Mello, another ex-president, control of a state-run company in exchange for "political support" for Lula's government in Congress.
According to the Folha de Sao Paulo newspaper, Janot said "a criminal organization primarily intended to divert public resources for private gain, corruption of public officials and money-laundering" was created between 2010 and 2014 in the Petrobras subsidiary BR Distribuidora.
Janot's claims are included in a complaint submitted by him to the Supreme Federal Tribunal (STF) against Vander Loubet, deputy for the ruling Workers Party (PT).
Collor de Mello ruled Brazil between 1990 and 1992, when he was stripped of power in the wake of a different corruption scandal. For eight years he was prevented from holding public office. He then returned to politics and was elected senator, a position he holds at this moment in time.
In 2015, he was reported to the Supreme Court on charges of corruption and money-laundering involving BR Distribuidora.
"At the end of the period of suspension of political rights, Fernando Alfonso Collor de Mello returned to public life. As a senator for the Brazilian Labor Party of the State of Alagoas, circa 2009, he won control of the Petrobras subsidiary BR Distribuidora in exchange for political support for the Lula da Silva's ruling coalition in Congress," Janot wrote.
With power over BR Distribuidora, Collor de Mello appointed managers of two key offices. He put Luiz Claudio Caseira Sanches in charge of the network of BR service stations and José Zonis at the head of Operations Management and Logistics.
According to Janot, both appointments "served as the basis for the payment of bribes to parliamentarians" in exchange for political support. The prosecutor added that during Lula's government (2003-2010) "part of the BR was given to Senator Collor" and another part of the state-run company was "reserved" for the ruling PT, who appointed Cerveró finance and services director.
In his statement Cerveró said Lula gave him a job in 2008 as "recognition" for his help in repaying a 12 million Reais (US$3 million) loan considered fraudulent by police.
In 2004, the landowner José Carlos Bumlai obtained a loan from Schahin Bank, transferring six million Reais (US$1.5 million) to Ronan Maria Pinto, a businessman from Santo André in São Paulo, who police believe was blackmailing the local branch of Lula da Silva's PT.
Years later, under Cerveró, the international sector of Petrobras contracted Schahin Engineering to supply a drillship, the Vitoria 10,000, at an estimated value of US$616 million. According to investigators, the contract was the PT's way of repaying Schahin for the loan.
Cerveró says that Lula da Silva "decided to put forward" his name for the position "as recognition for his help"; in other words, for "having made possible the contracting of Schahin as the operator of the drillship." Cerveró also received "a feeling of gratitude from the PT."
The content of Cerveró's accusations has left the Brazilian government on high alert with fears that it could have an adverse influence on the impeachment process against current President Dilma Rousseff.
Cerveró told the Attorney General's Office that Collor told him in September 2013 that his negotiations to indicate management positions in BR Distribuidora, a Petrobras subsidiary, had been conducted directly by Rousseff.
"Fernando Collor de Mello said he had spoken with the president of Brazil Dilma Rousseff, who told him that the presidency and the directors of BR Distribuidora were at his disposition. Collor said he had no interest in tinkering in the presidency, nor in the BR Distribuidora board of directors," said Cerveró.