US Treasury and Homeland after identification of high end real estate deals in cash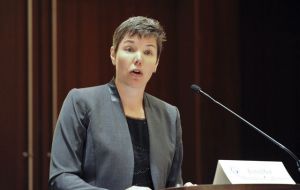 The United States is hunting down international criminals who launder money through real estate deals, with the Treasury Department ordering title insurance companies to report the identities of people paying cash for high-end properties in Miami and Manhattan.
The Financial Crimes Enforcement Network, an arm of the US Treasury, said it is concerned that individuals buy residential real estate in cash through shell companies to hide their assets and veil their identities.
"We are seeking to understand the risk that corrupt foreign officials, or transnational criminals, may be using premium US real estate to secretly invest millions in dirty money," FinCEN Director Jennifer Shasky Calvery said in a statement.
FinCEN has issued rules aimed at preventing laundering through the mortgage market, but "cash purchases present a more complex gap that we seek to address," Calvery added.
Title insurers will have to disclose buyer identities in deals of at least US$1 million in Miami and at least US$3 million for Manhattan, the Miami Herald reported.
Research conducted by the Homeland Security officials suggests that the majority of real estate purchases of at least US$1 million in Florida's Miami-Dade and Broward counties are made through shell companies, said John Tobon, deputy special agent in charge at Homeland Security Investigations in Miami.
Money trails linked to drug trafficking, foreign corruption and other criminal activity often lead to luxury real estate properties, but when agents try to determine the true, or "beneficial" owners, they find only documents listing shell companies, many of which in turn are owned by other shell companies, Tobon said.
"It is a part of every single significant investigation that we have ongoing right now," he added.
But the threshold for reporting cash purchases is so low in the two markets that it will include many mainstream buyers, said Terrence Oved, lawyer with Manhattan real estate and commercial litigation firm Oved & Oved.
"You're going to get a lot of small fish caught up in this net," he said.
The temporary orders begin on March 1 and last 180 days, and Oved expects a surge in deals to be completed March. Buyers may turn to other major metropolitan markets such as Los Angeles, as well, he added.
There were about $104 billion in transactions involving foreign investors in the US real estate market between April 2014 and March 2015. More than half the buyers in those deals were from China, Canada, India, Mexico, and the United Kingdom, and the majority of transactions involving overseas buyers were in cash, said Deborah Friedman, who works in the FBI's money laundering intelligence unit, in September. Those purchases were concentrated in Florida, Texas, Arizona and California, she said.