Tight budgets are forcing many Brazilian cities to cancel Carnival celebrations
Saturday, January 16th 2016 - 10:25 UTC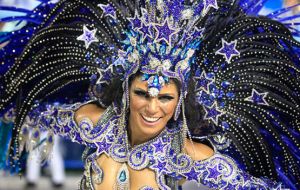 Cities across Brazil are cancelling carnival celebrations as increasing economic woes hit Latin America's largest economy. Local governments are citing tightened budgets, with lower tax revenues and more important projects in need of funding.
Areas that have cancelled celebrations or withdrawn public funding of parades includes Campinas, home to almost three million people. Campinas Director of Culture, Gabriel Rapassi, said that a drop in sales tax revenues from small businesses affected by the current economic situation had left the local government unable to foot the large carnival bill.
Other municipalities, such as São Luiz do Paraitinga in São Paulo state, are outsourcing large parts of the festivities to the private sector to cut down on spending. In the state of Minas Gerais, seven cities announced they were cancelling festivities because of a lack of funds – Cássia, São Tomás de Aquino, São João Batista do Glória, Alpinópolis, Fortaleza de Minas, Passos and Lavras. São Tomás de Aquino's Department of Culture said that health, education and infrastructure had to be the priorities.
Other areas and cities cancelling festivities and parades include Cabo Frio, Morretes, Irati, Lagoa Formosa, Porto Ferreira and Rolim de Moura, amongst others. Almost all have said that funding needed to be moved to different areas.
"We know the importance of Carnival, but it's the time to save," said Luizão do Trento, mayor of Rolim de Moura. In Porto Ferreira, the money is being used to buy a new ambulance.
Carnival traditionally takes place over five days at the beginning of February all over Brazil but the country is currently being rocked by an economic recession thought to be the worst in a century.
Unemployment is rising, inflation is rising, and Brazilian President, Dilma Rousseff's cabinet is muddied by a corruption scandal involving the country's largest oil company. Petrobras deals worth $22bn have led to high level members of Rousseff's Workers Party being charged and even an attempt to impeach the president herself. So far corruption has trailed at least 2bn dollars.
Some Brazilians traditionally wear masks of their heroes during carnival, and previously Rousseff has been popular. But, Olga Valles, owner of one of the largest carnival mask producers in Rio de Janeiro said: "Only our witch and monster masks are doing well... politicians are not having a good year".