Venezuela in "economic emergency": Q3 inflation 141.5% and GDP down 7.1%
Saturday, January 16th 2016 - 10:58 UTC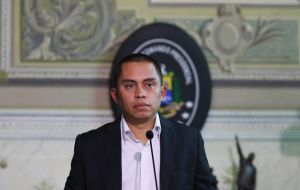 Venezuelan President Nicolas Maduro's government has decreed a 60-day "economic emergency" for the recession-hit OPEC nation reeling from low oil prices and a sputtering state-led economic model. The government on Friday also published the first macroeconomic data for more than a year, showing GDP dropped in the third quarter while inflation surged.
The decree, read by new economy vice president Luis Salas and to be debated next week by parliament, did not mention any major policy changes such as a widely-rumoured currency devaluation or a hike in the price of heavily-subsidised fuel.
Maduro, a former bus driver and foreign minister who won election to replace Hugo Chavez in 2013, has stuck to his mentor's policies of strict currency and price controls.
But critics say it is time to change a failed model. Venezuelans are suffering a deep recession, the world's highest inflation and widespread shortages of basics.
In data released on Friday, the central bank said Venezuela's annualised inflation at the end of the third quarter in 2015 was 141.5% while inflation in the first nine months of last year was 108.7%.
GDP dropped 7.1% year-on-year in the third quarter of last year, the bank added in the first official data on inflation and economic growth for more than a year.
Bank of America predicted on Friday that Maduro would merge Venezuela's three-tier currency controls into two, replacing the strongest rate of 6.3 bolivars to the dollar with a level of 35. The bank also forecast he would raise the price of the world's cheapest petrol. A large tank can be filled for one US cent at the black market rate. It said he may also seek a debt moratorium or restructuring.
Dependent on oil for about 96% of its hard currency revenues, Venezuela's basket fell this week to US$24.38, its lowest level in more than 12 years.
The government blames its woes on plunging oil prices and an "economic war" by its foes. But the opposition, which won the National Assembly last month due to public fury at the economic crisis, says policy incompetence and waste has hurt the country's economy.