UK floods reach Barbados where UK Environment Agency was basking in the sun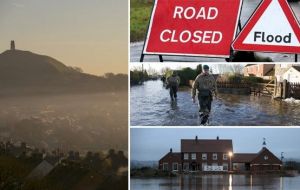 The head of Britain's Environment Agency (EA) has resigned after being heavily criticized for not cutting his Christmas holiday in Barbados short to return home to lead the response to floods last month. Required to work a three-day week for £100,000 (US$142,992) a year, Sir Philip Dilley said he quit because of the "inappropriate" expectation for him, as a part-time chairman of the EA, "to be available at short notice throughout the year".

Sir Philip came under intense scrutiny for being on a trip to Barbados while the worst storms in decades caused flooding in Britain. The UK media accused him of being hypocritical, since he had criticized his predecessor for his tardiness in visiting the flood-hit Somerset Levels in 2013 and had said at the time that the response in a flooding crisis should be to "show great interest and turn up in your wellingtons very early on".

The Telegraph newspaper reported that, instead of taking his own advice, he was "basking in 30°C sunshine in the Caribbean at his holiday home near the world famous Sandy Lane Resort".

But in a statement issued through the Department for Environment, Food & Rural Affairs last week, Sir Philip said the media scrutiny focused on him was diverting attention from the real issue of helping those whose homes and businesses have flooded, as well as the important matter of delivering a long-term flood defence strategy.

"This same media attention has also affected and intruded on my immediate family, which I find unacceptable," he said.

"My reason for resigning is that the expectations of the role have expanded to require the Chairman to be available at short notice throughout the year, irrespective of routine arrangements for deputy and executive cover. In my view this is inappropriate in a part-time non-executive position, and this is something I am unable to deliver.

"I am well qualified to carry out this role, and had much to contribute. I fully support the Secretary of State's reform agenda to deliver efficiency as well as a better, more joined-up service to our stakeholders and the public, and so I am disappointed that I will not now see through delivery of these reforms," Sir Philip added.

He also used the opportunity to take responsibility for a statement issued about his whereabouts over the Christmas holiday.

The Environment Agency had issued a statement that said Sir Philip was at "home with his family" over Christmas. He told MPs he had two homes, including one in the Caribbean where his wife is from, adding that he kept in "regular contact" and worked from there.

But it was subsequently reported that Sir Philip's wife was from Jamaica, not Barbados.

"I want to be clear that I have not made any untrue or misleading statements, apart from approving the statement about my location over Christmas that in hindsight could have been clearer," Sir Philip said in his resignation statement. He leaves his post at the end of this month.