Colombia's peace deal to end war almost there; joint request to UN Security Council
Thursday, January 21st 2016 - 07:52 UTC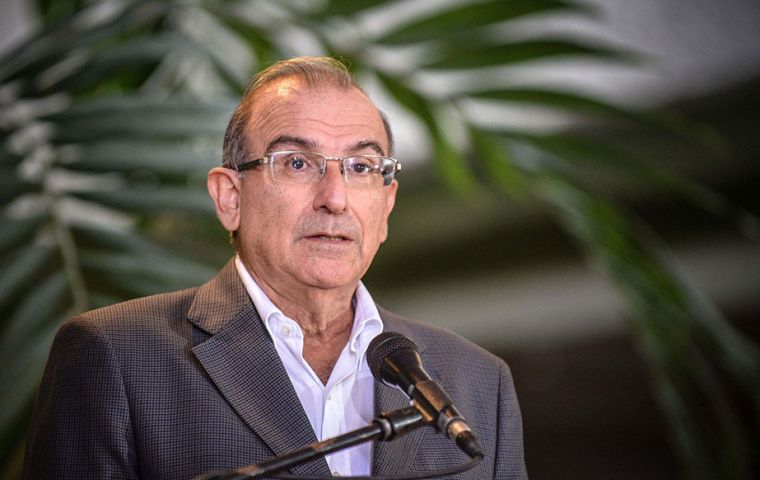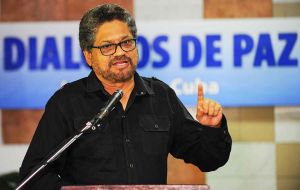 Colombia's government and rebel guerrillas Revolutionary Armed Forces of Colombia (FARC) agreed to jointly ask the United Nations Security Council to help monitor and verify a future rebel disarmament, should the two sides reach a final peace deal to end their 50-year-old war, crossing a major stepping stone on the road to ending Latin America's longest-running conflict.
The move raises hopes that the two sides are close to finishing off a peace agreement.
"We have decided to request the Security Council of the UN to establish as of now such a political mission with unarmed observers for a period of 12 months," the two sides said in a joint statement read in Havana, the site of peace talks for the past three years.
"We think this is good news today, transcendental news," said Humberto de la Calle, the government's chief negotiator. "It's the end of the war. It's the best news for Colombians," he added.
Rebel negotiator Ivan Marquez called the agreement a "strong signal, adding "Peace in Colombia is possible."
Negotiators for the two sides announced that the 12-month mission would be made up of unarmed observers, asking that they be representatives from member states of the Community of Latin American and Caribbean States (CELAC).
A formula for the rebels' demobilization and handing over of their weapons remains to be negotiated. But in calling on the UN to begin preparing for the observers' deployment, analysts say both sides are signaling that a March 23 deadline to wrap up talks, which some had viewed as overly optimistic, could tentatively be within reach.
Colombian President Juan Manuel Santos said last year he would make such a request to the United Nations, but the rebels' willingness to make the request jointly with the government is a true sign of progress.
The international monitors would verify a bilateral ceasefire, preside over the FARC's disarmament and the expected demobilization of some 7,000 fighters, settle any disputes and make recommendations. If needed, international participation could be extended for another year, the statement said.
"This entity will begin work once the accord is signed," said government and rebel negotiators.
"Today's announcement isn't only the start of an international process, it's the unequivocal demonstration of our desire to end confrontation," de la Calle said.
He emphasized that the international make-up of the observation mission should satisfy concerns of Colombians who worry the FARC won't truly disarm and will continue its involvement in drug-trafficking and extortion of rural communities after a peace deal is signed.