IMF estimates 2016 Venezuela inflation at 720% and 8% economy contraction
Monday, January 25th 2016 - 10:01 UTC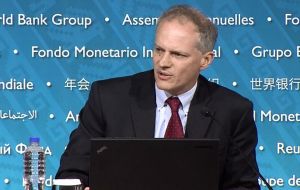 Venezuela's consumer inflation, already the world's highest, will more than double this year surging to 720% in 2016 from 275% last year, according to a note published by the IMF's Western Hemisphere Director, Alejandro Werner.
Spiking prices and widespread shortages for even staples have driven discontent in Venezuela. That helped spur the opposition to gain control of Congress for the first time in a decade as President Nicolás Maduro attempts to turn the tide of what he has deemed an "economic emergency."
"A lack of hard currency has led to scarcity of intermediate goods and to widespread shortages of essential goods — including food — exacting a tragic toll," Werner said. "Prices continue to spiral out of control."
Venezuela's Central Bank published economic statistics January 15 for the first time in a year, confirming that inflation had reached triple digits and closed the third quarter at 141.5% on an annual basis. As of December 2014, the last time data was released, inflation was 68.5%.
The monetary authority accused websites that track the dollar's street value of "destroying prices" and installing a "savage" form of capitalism in the country, adding that 60% of inflation was the result of currency manipulation.
Venezuela's economy will shrink 8% this year following a 10% contraction last year, according to the IMF.
Slumping crude prices have investors and analysts warning of a potential messy default in Venezuela, with state-owned oil company PDVSA owing some US$10 billion in external debt payments due this year.
Barclays said the country will have difficulty avoiding a "credit event" in 2016 — and that is based on the bank's forecast of US$37 oil, almost US$10 higher than current prices. That sentiment seems to be widely shared in the market, even though President Nicolás Maduro assured the National Assembly last week that Venezuela would continue to pay what it owes.
Venezuela was able to stave off its troubles last year, leaving no stone unturned in efforts to drum up short-term financing. It filled gaps through cashing in PetroCaribe loans at a steep discount, gold swaps and issuing high-yield bonds through PDVSA's US subsidiary Citgo. But many of these sources are now exhausted.