Chilean Army clearing Magallanes region of anti personnel mines
Tuesday, January 26th 2016 - 08:37 UTC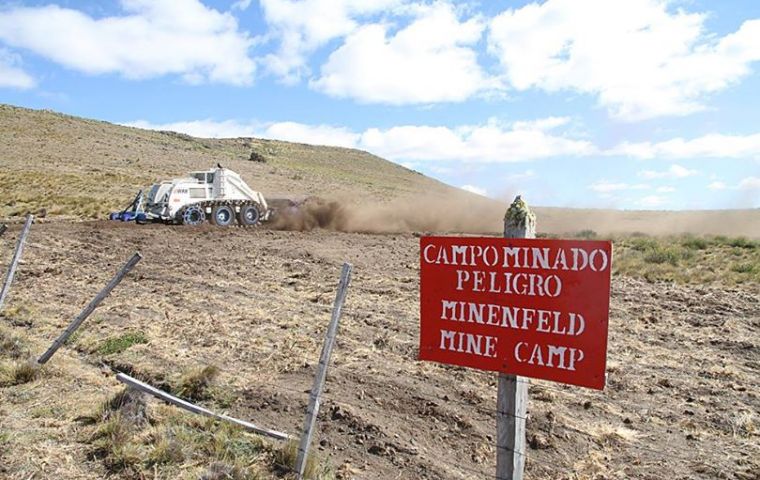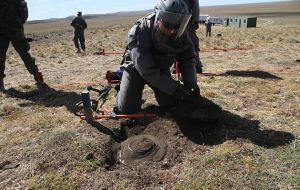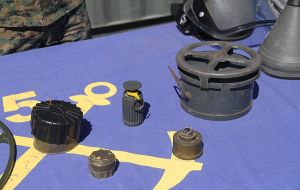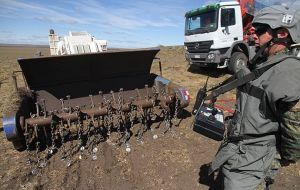 The Chilean Army is involved in anti personnel-mine sweeping operations in the Magallanes region, north of Punta Arenas, as part of the country's commitment to have the region free of all mines by 2020 thus complying with the Ottawa convention.
According to the Army's report, 14 out of 16 fields have been cleared and they are currently working at Laguna Timone in the San Gregorio community in the 22 field, which should be completely cleared and secured by May 2017. Apparently an estimated 150 artifacts are buried in the area dating back to the seventies when the Beagle channel and islands conflict with neighboring Argentina.
Given the time elapsed and the fact that most of the mines are buried on a hillside, in a rocky soil with a high degree of mineral content, "the task is complicated, which demands appealing to mechanical equipment" according to the officer in charge of the squad.
"We estimate there are 150 mines buried, but we don't have a proper registry", said Sebastian Sierra. "Despite the sacrifice and the risks we are proud of what we are doing and the team spirit is excellent, really professional".
Another issue limiting the task in San Gregorio is the strong wind which can reach 80km per hour, and is highly risky if an emergency is involved. Anyhow 40% of the job is done mechanically with special remote controlled armored excavator, and the remaining 60% manual.
All work is suspended during the winter months.
The team is made up of 28 experts in de-mining with the logistics support: doctor, cook, nurse and drivers who can conduct ambulance and heavy duty trucks. Daily work is eight hours and those in the field crews, 40 minutes and 30 minutest rest, which apparently are the international regulations for such tasks.
Once the clearance of San Gregorio is finished the Chilean Army crew will be moving to Field 17 at Rio Chico, which should be finished during the first half of 2019, thus fully ensuring Magallanes region is free of mines and Chile will be complying with the Ottawa convention.