Falklands' opportunities for Caribbean residents, promoted by MLA Hansen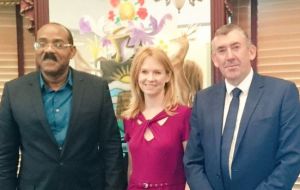 Falkland Islands are well on their way to mining oil and member of the Legislative Assembly Ian Hansen said there are possible opportunities for locals to consider relocating to the Britain territory, according to a report from Antigua's Daily Observer.
"We are very close to developing oil and we have a strong and viable economy. We are more self-governing internally. We depend on the UK for defence, of course. There is virtually no crime, no unemployment, it is a close-knit community feeling. It is a very good place to live, we have a strong educational system and great healthcare," MLA Hansen is quoted.
MLA Hansen said the 4,700 square mile islands with less than 3,000 islanders have come a long way from that 1982 war, when a British Task force was sent to remove invading Argentine forces. It was a bloody 74-day conflict.
"There has been tremendous change since 1982. A lot of people all they know about the Falklands is the war, that's history and since then the Falklands has become totally self-dependent as far as the economy goes. We have a very strong fishing industry, tourism is strong and of course agriculture has always been there," he added.
The Falklands' government is the largest employer, paying salaries to 500 of the 900 work force.
British High Commissioner to Barbados & the Eastern Caribbean, Victoria Dean accompanied MLA Hansen and Krysteen Ormond, the Falklands' government PR and media manager.
The three met with locals and spoke to government officials. MLA Hansen said there is still a lot that is unknown about Falkland Island, and this is an opportunity to explore the country.
High Commissioner Dean said her duties include finding links and opportunities between the Falkland Islands and the people of the Caribbean.
MLA Hansen and Ms Ormond attended the 2016 Trinidad & Tobago Energy and Trade Show at Port of Spain. Falklands and Trinidad & Tobago have established close links regarding preparations for the management of an oil industry and training staff for the coming trade opportunities.