Together, let's reform the EU
Tuesday, January 26th 2016 - 07:22 UTC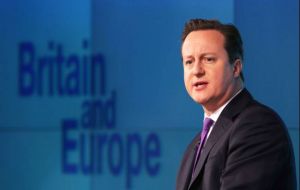 by David Cameron (*) - Britain is going to hold a referendum on whether to stay in the European Union. Support for our membership has declined over many years, so I am negotiating changes in 4 areas which will directly address the concerns of the British people. But I believe these changes can build a stronger EU that will benefit all 28 member states. Let me explain.
First, Britain wants the EU to be more competitive. Nothing can have a greater impact on the prosperity of our peoples than tearing down the barriers to trade and enterprise between our nations. This is not just about trading goods, but selling the services for which the British economy is world-famous. I want a young British or Czech graduate with a great business idea to be able to get finance from investors anywhere in Europe – and to be able to sell their world class services anywhere too. I also want to see more free trade deals, like the one with America that could be worth over 3 trillion Koruna to the EU each year. These are changes that will create jobs and growth for us all.
Second, we want to establish the clear rules that will allow the euro zone to make changes while protecting non-euro countries. The euro is the biggest trading partner for both Britain and the Czech Republic, so we don't want to stand in the way of any changes in the euro zone that might be necessary. But those changes must not disadvantage countries like Britain and the Czech Republic. The integrity of the single market must be preserved for us all.
Third, we want to deal with the loss of democratic consent for the EU by shifting power from Brussels back to national parliaments, so decisions are made closer to the people. In Britain's case, we do not want to be part of an ever-closer political union.
Fourth, we want to make some changes to control the scale and pace of people coming into Britain. Let me be clear. We are not trying to change the principle of free movement. This is a foundation stone of the EU. It benefits millions of Britons who live and work across the EU and it benefits Britain too. We are a proud multi-ethnic, multi-racial democracy and we appreciate just how much people have given back to Britain by coming to live in our country. I think of the likes of businessman Sir Frank Lampl, goalkeeper Petr Cech, and playwright Tom Stoppard, all of whom either came from the Czech Republic or are of Czech descent and who have enriched Britain's commercial, sporting and cultural life.
But Britain does face some particular challenges due to the scale and speed of immigration in our communities. Our natural population growth is such that we are already on track to become the most populous country in the EU by 2050. At the same time our net migration is running at over 300,000 a year – almost the equivalent of a city the size of Brno every year.
One of the ways in which we can begin to control this is by addressing the very particular nature of our welfare system to prevent it being an unnatural draw for people to come to our country. For example, because of Britain's generous in-work benefits system, a graduate from the Czech Republic could be financially better off stacking shelves in a supermarket in Britain rather than undertaking skilled work in the Czech Republic. That doesn't make sense for Britain or for the Czech Republic. So we don't want to change free movement but we do want greater determination of our welfare systems.
Securing changes in these 4 areas would make a big difference in persuading the British people to stay in a reformed EU. It would also mean the EU continues to benefit from a country that is the second largest contributor to its budget and its biggest defense power with one of the most extensive diplomatic and political networks anywhere in the world.
Our 2 countries have a great history of working together. I think of the brave Czech airmen who flew with the Royal Air Force in World War 2, our armies fighting side by side in Afghanistan and our shared commitment today to an open and competitive European Union. At every stage the partnership between Britain and the Czech Republic has helped to build a stronger and safer Europe. I hope you will help us secure these changes so we can continue our partnership in the EU, advancing the security and prosperity of our peoples for generations to come.
(*) UK Prime Minister David Cameron wrote an article on EU reform in the Czech newspaper Hospodarske noviny.