Chile to provide gas to Argentina in winter months; Enap and YPF will increase production in Magallanes
Monday, February 1st 2016 - 05:48 UTC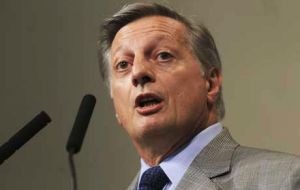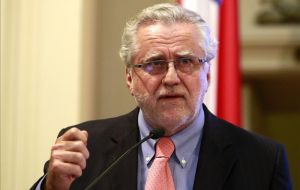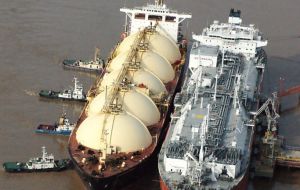 The government of Chile will be selling energy-short Argentina 5.5 million cubic feet of natural gas a day starting in May, providing also 200 MW of electricity through the interconnection system between both countries. Chile also committed to invest 200 million dollars in the Incremental Project of the Magallanes Area to boost hydrocarbon production.
The accord was sealed under the agreements signed between Energy Minister Juan José Aranguren and his Chilean counterpart Máximo Pacheco.
This way, Chile's gas exports to Argentina will be accounting for 20% of the country's gas imports, Pacheco said in statements quoted by La Tercera newspaper in Chile.
Gas exports that Chile receives from the Southeast Asia in the GNL terminals of Mejillones and Quintero will be providing energy to the industrial and residential sectors in Buenos Aires, delivering gas through the NorAndino and GasAndes pipelines.
The second agreement sets the export of electricity from Chile through the power line that goes from Mejillones in Chile to the province of Salta in Argentina.
The third accord that involves the Incremental Project of the Magallanes Area investments will be operated by the Enap Sipetrol Argentina and YPF, seeking to increase the production of natural gas in order to take it from 2.4 million cubic meters a day to 4 million.
"A new era begins in the energy integration between Chile and Argentina," Pacheco said adding the Magallanes agreement will account for 180 million dollars annually for the Chilean economy.
After winning the November 22 presidential runoff, Mauricio Macri said he was looking to build new Pacific trade links in energy supply, seeking improved relations with neighboring Chile.
Only two decades ago Chile became totally dependent on Argentine natural gas supply, which at the time had become a formidable producer. However under the Kitcheners, Argentina gave priority to domestic consumption at bottom rock prices and virtually froze all investments in the industry. In a few years Argentina became from a net exporter of gas to a net importer.
In the meantime the Methanex complex in Punta Arenas, supplied mainly by Argentine gas had to drastically cut its production, putting at risk the whole of the Canadian investment in the methane producing plant.