Magallanes region with second lowest unemployment in Chile
Tuesday, February 2nd 2016 - 08:07 UTC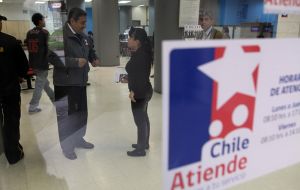 Employment in Magallanes Region, extreme south of Chile remains strong according to the latest data released by the Chilean stats office, INE, which covers the fourth quarter of 2015 (October/December). While the national unemployment average stands at 5.8%, Magallanes figures with 2.6 percentage points below.
This means Magallanes is the second best rated, behind the Los Lagos Region which has the lowest unemployment in Chile with 2.3%. Magallanes is followed by Aysén Region with 3.3%
Employment in recent months recovered in Magallanes with a strong demand from the services sector, hotels, lodging, gastronomy, confirming prospects of a very successful summer and Antarctic season.
As to gender, women are in a better position since unemployment is estimated at 2.9% which means a drop of 0.6 percentage points compared to the same quarter in 2014.
Unemployment rate for men stands at 3.5%, a full one percentage point increase, over the same period a year ago, according to INE.
Magallanes has quite a diversified economy which includes, agriculture, mining, fisheries, some manufacturing such as vessel repairs and methanol production, tourism and supplying Antarctica bases, and oil and gas.
This last industry should receive a strong boost following the recent agreement between Argentina and Chile to increase investment for gas and oil exploration in Magallanes and Tierra del Fuego.