Harsh time for Rousseff in Congress: booing and threats of more difficulties
Wednesday, February 3rd 2016 - 07:04 UTC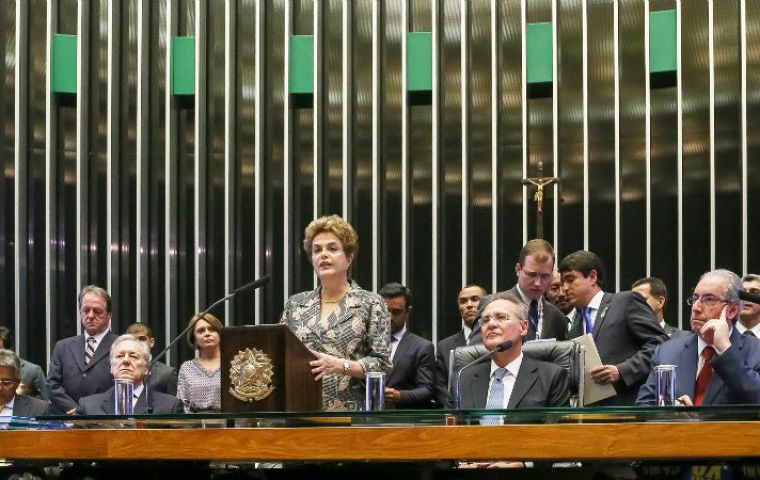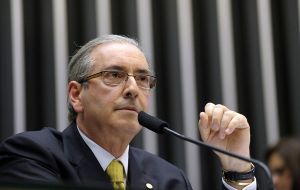 Brazilian Congress gave on Tuesday a harsh welcome to President Dilma Rousseff at its yearly inaugural session, booing her and threatening new "difficulties" added to the turbulent relations that prevail between the executive and legislative branches.
Rousseff's participation at the ceremony was a gesture of rapprochement toward Congress, as in previous years she had delegated that task to one of her Cabinet ministers.
The booing peaked several times at the joint session of the lower house and the Senate in a form of protest staged by the opposition given the president's proposal of a new tax on financial transactions to reduce the budget deficit.
Lower house speaker Eduardo Cunha, who has had a falling out with Rousseff, noted in his speech the tense relations between the government and Congress last year and warned that the crisis is worsening and that 2016 "will be a difficult year."
Nevertheless, Cunha did not mention the issue that last year brought the political crisis to its apex: the initiation of impeachment proceedings against Rousseff.
The impeachment proceedings are based on the administration's alleged resort to accounting tricks to disguise the state of the public finances and began in December, but the process was suspended by Supreme Court order over procedural errors.
Cunha announced that he intends to resume the process in the coming weeks with the aim of having the lower house decide by the end of the month whether or not it will bring Rousseff to trial.
President Rousseff decided to attend the ceremony to ask legislators for their support in approving the bills the government is pushing with an eye toward pulling the country out of recession.
One of those measures, the proposal for a new financial transactions tax, sparked the most irate responses by the opposition.
Opposition lawmakers booed the president loudly and also displayed signs against the tax, which is calculated to collect about 10 billion reais ($2.5 billion) annually.
Rousseff took advantage of the occasion to ask that those responsible for corrupt acts be punished "rigorously," an allusion to the $2 billion scandal centered on state oil company Petrobras, and in accord with which some 50 members of Congress are being investigated.
Among the lawmakers being investigated for benefitting from corruption at Petrobras are house speaker Cunha and Senate president Renan Calheiros.