Strong support message from S&Ps for Argentina's economic reforms
Friday, February 5th 2016 - 08:22 UTC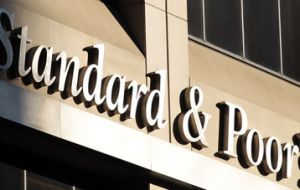 Standard & Poor's ratings agency says that Argentina's new administration has presented a credible plan to deal with long-standing macroeconomic imbalances, eliminated foreign-exchange restrictions, and begun negotiations with its holdout creditors. The outlook on the local currency rating is stable, reflecting the new economic policies of the Administration, but also the potential difficulties in passing and implementing those plans.
"As a result, we are raising our long-term unsolicited local currency rating to 'B-' from 'CCC+'. In addition, we are raising our transfer and convertibility (T&C) assessment to 'B-' from 'CCC-'. However, the unsolicited foreign currency ratings on Argentina remain 'SD' following its July 2014 default says S&P.
The ratings agency's selective default ('SD') foreign currency ratings on Argentina stem from the sovereign's non-payment of part of its external debt. On July 30th 2014, Argentina failed to make a $539m interest payment on its discount bonds due in December 2033. Since then, Argentina has not been able to service its external bonds under foreign law.
According to S&P, raising the local currency rating reflects recent steps to address some of the substantial economic imbalances prevailing in Argentina. Recently elected President Mauricio Macri aims to reduce these imbalances over the next four years, reaching a balanced budget by 2019.
"After moving quickly to eliminate foreign-exchange restrictions and shifting to a more flexible exchange rate, the government plans to reduce inflation to single digits by 2019. Unofficial estimates suggest that inflation was about 25% in 2015 (official inflation numbers lack market credibility). The inflation rate could spike to about 35% this year based on the depreciation of the Argentine peso in December 2015 and higher regulated energy prices in 2016, among other factors," says the credit note.
The ratings agency estimates Argentina's fiscal deficit for 2015 at about 7.5% of GDP (excluding one-off financing from government agencies). "We expect that the fiscal deficit may decline modestly in 2016. The government announced on 27 Jan. 2016, a rapid reduction in energy subsidies that could save about 1.5% of GDP. However, some other recent actions, such as the reduction of export duties and a narrowing of the income tax base, could actually reduce tax revenues. We expect that continued, although declining, fiscal deficits are likely to contribute to a rising debt burden in coming years. We expect Argentina's net general government debt to gradually increase to 51% of GDP at year-end 2016 from 50% in 2015 and 41% in 2014. Nonetheless, between 50% and 60% of that debt stock is held by government-owned agencies--mainly the social security agency and the central bank--diminishing the roll-over risk on that debt".
The Macri Administration has begun negotiations with the holdout creditors. It is difficult to foresee how long the process will take and what the key parameters of a settlement would be. In any case, regaining access to international capital markets is very important for the government to fulfil its strategy of correcting Argentina's main macroeconomic imbalances. An enhanced inflow of external funding would boost liquidity for the sovereign, as well as for Argentine provinces and the private sector, helping to stabilise the economy.
"We expect that greater access to commercial and multilateral borrowing will be reflected in likely growing current account deficits in the next two years. As a result, Argentina's narrow net external debt will likely reach 109% of current account receipts by the end of 2016, compared with 107% last year. We expect gross external financing needs to equal 115% of current account receipts plus usable reserves in 2016, up from 101% in 2015", conclude the report.