Ushuaia has received 58.000 cruise visitors since 15 September; "Queen Mary" expected next week
Friday, February 5th 2016 - 08:15 UTC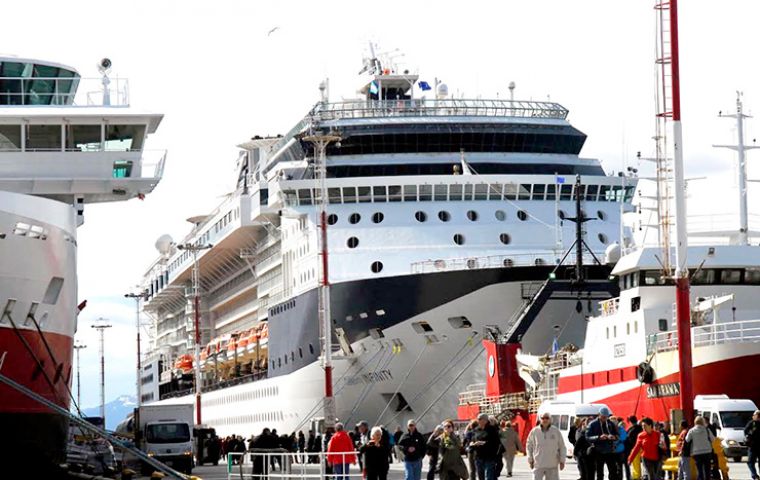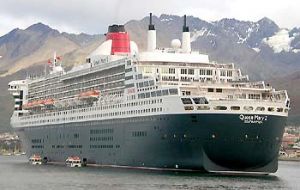 An estimated 58,000 cruise visitors have landed in Ushuaia, extreme south of Argentina during the current 2015/16 season which took off last 15 September, according to the Tierra del Fuego Tourism Institute. The largest number was concentrated in January, with an estimated 25.000, and this weekend promises to be equally busy with several vessels calling with 10.000 passengers.

Ushuaia is a crucial location for the cruise industry since the city receives vessels that make short but luxurious sailing along Tierra del Fuego canals and Cape Horn; then you have the so called pendular trips involving cruises with capacity for thousands of passengers that travel from Valparaiso in Chile, to Buenos Aires, Montevideo and possibly Brazil, along the South American coast, and finally those more sophisticated that head for Antarctica.

According to local stats, US nationals head the list of cruise visitors followed by Germans and British. And from the region, Chile, Argentina and Brazil in that order. Brazilians have fallen back because of the serious problems and uncertainties facing the country's economy.

Some of the cruises that call regularly in Ushuaia, include Zaandam (1805 pax), Ocean Endeavour (199 pax), Celebrity Infinity (2450 pax), Le Lyrial (264 pax) and Norwegian Sun (2400 pax).

However one of the highlights of the season is scheduled for 10 February, when Cunard's "Queen Mary" and 5.000 visitors is expected to call at Ushuaia. Given the size and displacement of the vessel shed will have to anchor in the bay and passengers will be transported by launches to land.