Meteorologists rebuke Royal Caribbean's "Anthem of the Seas" on weather report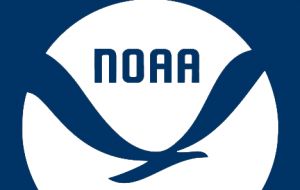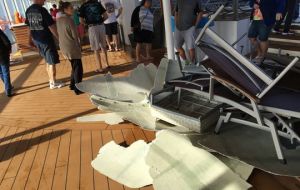 "Royal Caribbean should have known better". That's the word Tuesday from weather experts who closely monitored the development of the storm that rocked the line's Anthem of the Seas, on Sunday and Monday.
The 168,666-ton vessel should not have sailed southward from New York into the path of the growing weather system, which eventually packed winds of up to 100 mph and created waves higher than 20 to 30 feet, WeatherBell meteorologist Ryan Maue said "The risk was easily avoidable as the storm was well-forecast by private and public forecasting outfits," Maue said.
United States government weather watchers noted the possibility of a large storm in the Atlantic on Friday. The National Oceanic and Atmospheric Administration's Ocean Prediction Center issued its first alert at 1 p.m. Friday for hurricane-force winds Sunday in the Atlantic, according to NOAA spokeswoman Susan Buchanan. Another warning came from the Ocean Prediction Center in the offshore waters forecast at 3:34 p.m. Saturday, Buchanan said. The warning predicted hurricane-force winds increasing to 63 to 75 mph, in effect through Sunday night.
Another climate watcher, Southeast Regional Climate Center climatologist Jordan McLeod, suggested that, at the very least, Royal Caribbean is guilty of poor weather analysis.
"Did Royal Caribbean know about the forecast for a potentially dangerous storm in the days prior to the ship's departure? If so, I would say it was negligent for them to sail through that area given that passenger safety should be their first priority," McLeod said.
If they didn't know about the storm, McLeon said the company "should invest either in an in-house meteorological staff or someone to consult with the National Weather Service for cruise-specific weather forecasts."
Royal Caribbean spokeswoman Cynthia Martinez on Tuesday told the US media the line couldn't immediately comment on its decision to allow Anthem to sail toward the storm as it still was gathering information. But in a tweet on Monday, the line said the storm had been "unexpectedly severe," and a Monday statement from the line said wind speeds were higher than what was forecast.
Such comments on Tuesday prompted well-known TV weather forecaster Al Roker to rebuke the line on air. "Royal Caribbean's claim that this was not predicted is bull-feathers"
Hurricane-force winds and giant waves lashed Anthem for hours during the storm, sending furniture tumbling, smashing glass and collapsing part of a ceiling in a public corridor. While just four passengers were injured, according to the line, many reported being terrified. Royal Caribbean on Monday canceled the remainder of the sailing, and the vessel headed back to its home base in the New York area.
"The cruise ship can easily take that pounding but the passengers inside surely did not have an enjoyable experience," Maue noted. "Airlines take exceptional care to route traffic around areas of turbulence or rough air to avoid preventable injuries or damage to the aircraft. In the case of Royal Caribbean, the ship was routed into an area of ocean that would experience hurricane conditions."