Three letters from Macri to Ban Ki-moon; possible summit with Obama in New York
Wednesday, February 10th 2016 - 07:10 UTC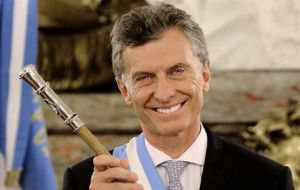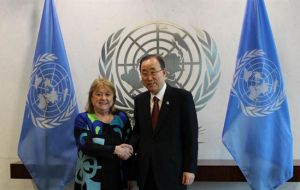 Argentina's foreign minister Susana Malcorra met on Tuesday in New York with United Nations Secretary General Ban Ki-moon and delivered three letters from president Mauricio Macri.
According to a release from the Argentine ministry, in one of the letters president Macri confirms he will be at the United Nations on 22 April for the signature of the Paris agreement on climate change.
In a second letter Argentina offers humanitarian aid through the White Helmets, to help Syrian refugees.
Finally president Macri reaffirms Argentina's commitment to the UN peace forces and the continuation of the country's contribution to that effort. Macri also congratulated Ban Ki-moon for the successes of UN forces in their peace efforts.
The UN Secretary General, according to the Argentine release, thanked president Macri for this offer and commitment to UN peace efforts, and said he was looking forward to his coming attendance in April.
It is during the April meeting of world leaders in New York that Argentine diplomacy, apparently with support from their US counterparts, are planning for a meeting of Macri with Barack Obama, helping to seal a new understanding between the two countries, after years of strained relations with the previous Argentine administration.
Malcorra also mentioned the possibility of a Ban Ki-moon visit to Argentina in the near future.
The Argentine minister, a former aide of Ban Ki-moon is also scheduled to meet with Jeffrey Feltman, UN Assistant Secretary General for Political Affairs and will be main speaker at the seventieth anniversary of the UN Advisory Committee on Administrative and Budgetary Questions.