Macri announces end of mining export duties campaigning for provincial support
Saturday, February 13th 2016 - 08:34 UTC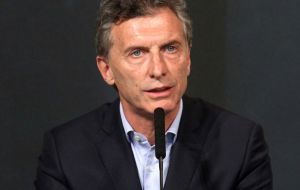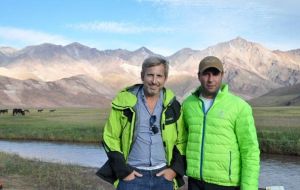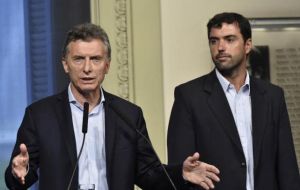 Continuing with his economic reforms Argentine president Mauricio Macri announced on Friday the elimination of export duties for metallic and non-metallic minerals during a visit to the province of San Juan, a key mining district in Argentina. At the announcement were present several other provincial governors with strong interests in the mining industry.
President Macri short in Congress of sufficient support, is wooing provincial governors and lawmakers with more funds and loans to have his legislative program passed.
The head of state held a meeting at the town of Barreal with San Juan Governor Sergio Uñac and other regional leaders. These included governor of the province of Catamarca, Lucía Corpacci; governor of the province of La Rioja, Sergio Casas; governor of the province of Mendoza, Alfredo Cornejo; Interior Minister Rogelio Frigerio and ruling PRO party lawmaker Eduardo Cáceres.
Macri later led an official rally to commemorate the crossing of the Andes by Liberator José de San Martín, some two centuries ago, and there announced the elimination of export duties for the mining sector saying the tax "violated the rules of the game".
"For more than 10 years, they took resources out from San Juan to give it to the Nation (central government)," he added.
The elimination of the export duties won't come as something new for the mining sector as Macri had already anticipated the measure since he was elected. During the campaign, Macri praised the mining sector and highlighted its potential, describing it as a strategic resource for the country.
Many of the impediments questioned by mining companies have been eliminated, such as import and export restrictions, prohibitions on repatriating profits and foreign currency controls, but elimination of export duties was still pending.
It's not clear yet how the more flexible rules for the mining sector and the increase in projects will square up with a promise for stricter environmental regulations, none of which have been announced yet despite Macri's promise to keep close tabs on the environmental impact of mining projects.
In effect environmental groups are strong in Argentina (and neighboring Chile) and have in recent years impeded the development of some projects and launched international campaigns. One the latest referred to a major spill, allegedly with toxic materials, which contaminated water resources high in the Andes.
Argentina has an estimated US$14.5bn in mining projects that have been waiting for more favorable rules in order to move forward, according to a recent analysis by BNamericas. Of the US$14.5 billion, US$13.77 billion are copper projects and US$747 million are gold projects.
Multinational companies in Argentina, include Goldcorp, Pan American Silver, Silver Standard and McEwen Mining.