Illex 2016 Fishing Season begins in Falkland's Waters.
Sunday, February 14th 2016 - 23:29 UTC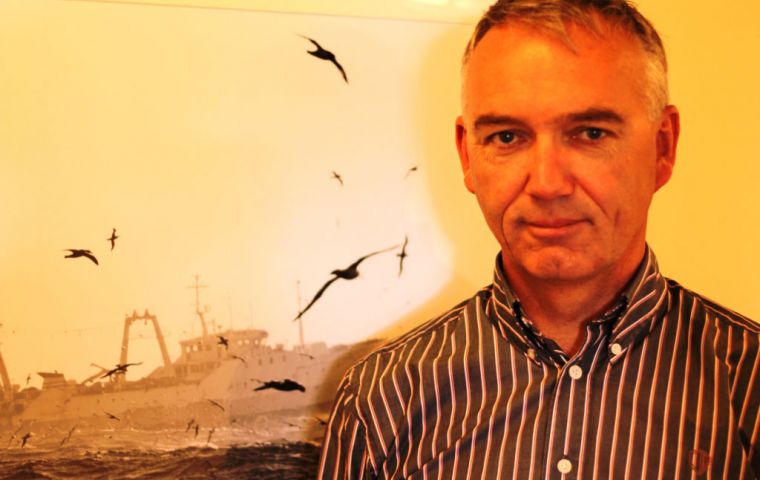 Fishing for Illex squid in Falkland's water took off on Sunday, as the 2016 fishing season opens. A total of 105 fishing licenses have been issued. The number of licenses issued has remained consistent for the past three seasons.
The 2016 Illex squid season begins today, with a total of 105 vessels issued licenses by the Falkland Islands Government. The Loligo fishing season, the other type of squid caught in Falkland Waters, is scheduled to begin next week on the 24 February. A total of 16 vessels are expected to fish for Loligo once the season begins. The Falkland Islands Government Fisheries Department has been regulating and issuing licenses to foreign and locally registered companies to fish in Falkland's waters since 1987 with the establishment of fishing zones around the Islands.
Speaking with the Director of Natural Resources,John Barton, last wee k, he informed MercoPress that the number of licenses issued had remained consistent over the past few seasons and some of the highest catch totals had been recorded during the 2014 and 2015 fishing seasons. During the 2015 season a record breaking number of Illex squid had been caught, with a total of 358,000 tonnes. Squid usually accounts for approximately 75% of the annual catches made in the Falkland's waters.
The beginning of the 2016 fishing season also sees the introduction of new and stricter safety measures for those involved in the fisheries industry. In early December 2015 Executive Council agreed on new measures which would be enforceable license conditions for any boats wishing to purchase a license to fish in Falkland's waters. Vessels have always had to adhere to safety regulations and inspections when applying for a license, but now stricter measures have been put in place, with no compromises made on issues relating to crew safety onboard, such as the quantity and quality of life jackets and rafts.
In a statement made in December 2015, Mr. Barton explained that in most cases vessels operated to acceptable standards, but the safety measures being implemented this year are designed to catch those falling short and are hoped will limit the likelihood of any incidents which have occurred during previous seasons. In past years, some crew members of Illex fishing vessels have jumped overboard when arriving in Stanley harbour. While some have survived, others have not been so lucky.
New posters have been designed - in multiple languages including Korean, Japanese, Taiwanese - which will be displayed onboard the squiding vessels, informing the crew of the dangers of jumping overboard. The posters form part a wider campaign undertaken by the Fisheries Department since 2015 which aims to improve the conditions on some vessels and reduce the possibility of future incidents occurring.
Speaking at Executive Council in January 2016, MLA Phyl Rendell stated that the Fisheries Department had "been in touch with the vessel owners, their companies, the agents and through the Embassies" to ensure suitable conditions are being met on all vessels and improvements are being made where necessary. She went on to add that any crew members wishing to leave vessels in the future should be allowed to do so "by contacting their senior officers and leaving by launch".
In the same address, MLA Rendell, also reiterated that a "coordinated scientific approach to the management of the fishery in the South-West Atlantic" is still needed, and with the new Argentine government now in place, the exchange on scientific data on fisheries could again be considered by Argentina. A South Atlantic Fisheries Commission (SAFC) had been established in the early 1990s to ensure cooperative management of fisheries resources between the Falklands and Argentina, but has not met since 2005.