Macri and First Lady celebration with the Rolling Stones
Monday, February 15th 2016 - 06:32 UTC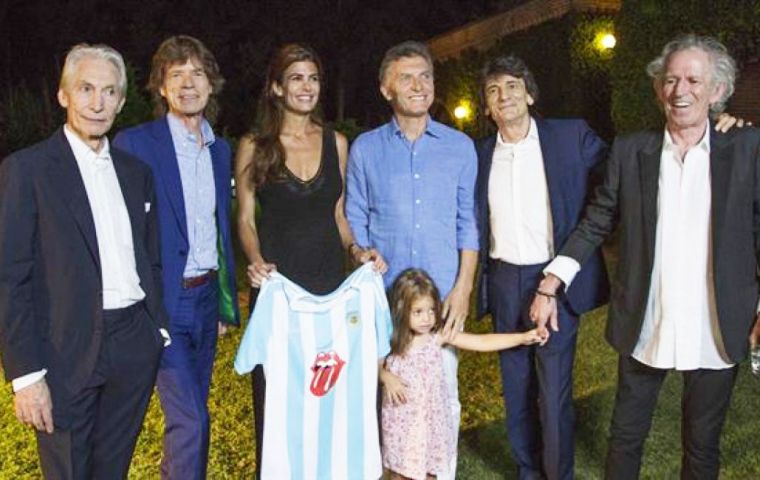 Argentine president Mauricio Macri and First Lady Juliana Wanda hosted the Rolling Stones on Sunday night at their country house, (in Malvinas Argentina), following their last presentation in Buenos Aires.
Macri with his wife Juliana and their daughter Antonia received Mick Jagger, Ronnie Wood, Charlie Watts and Keith Richards at 'Los Abrojos' in a totally informal event, where they shared a meal and talked about their current tour.
The band arrived from Chile and performed three shows in Argentina, one of them under pouring rain, and this week will be in Uruguay.
According to a brief release from the Argentine Executive, that included pictures, the group was shown celebrating with the presidential family.
The current Latin American visit, named "The Rolling Tour", is the fourth time the iconic British band plays in Argentina: previously they visited the country in 1995, 1998 and 2006, and in all cases with a 'full house'.
Mikc Jagger last Friday was photographed with Buenos Aires City mayor Horacio Rodrìguez Larreta a Rolling fan since a teen ager. The head of the band also visited the famous La Recoleta cemetery in Buenos Aires, world known where some of the most representatives of Argentine culture, academia, entertainment and politics are buried. The Argentine version of Paris' Pere Lachaise.
Mick Jagger, who has always admitted his admiration for Buenos Aires, has promised to return, according to media reports.