US Supreme Court battle expected to have a deep impact on presidential campaign
Monday, February 15th 2016 - 07:30 UTC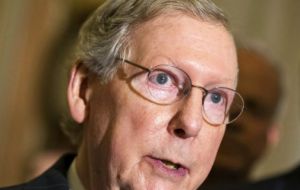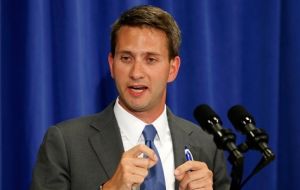 An epic Washington political battle took shape on Sunday after the death of Justice Antonin Scalia as Senate Republicans dug in and said they would refuse to act on any Supreme Court nomination by President Obama. But the White House vowed to select a nominee within weeks.
Multiple Republican senators said they strongly supported the position of Senator Mitch McConnell of Kentucky, the majority leader, that the vacancy should not be filled until after the presidential election, denying Obama a chance to reconfigure the ideological makeup of the court in the last year of his second term.
"I don't see anyone getting confirmed," said Senator Mike Lee, a Utah Republican who sits on the Judiciary Committee, which would consider any nomination. "I suspect that probably means no hearings." Senators Ted Cruz of Texas and Marco Rubio of Florida, both Republican presidential contenders, echoed that view in television appearances.
Despite the deep resistance, the White House was moving ahead but noted that Mr. Obama would not immediately announce his court choice.
"Given that the Senate is currently in recess, we don't expect the president to rush this through this week, but instead will do so in due time once the Senate returns from their recess," said Eric Schultz, the White House deputy press secretary.
Obama administration officials would not discuss a specific timetable for choosing a nominee, though a senior official pointed out that Mr. Obama had made both of his previous Supreme Court nominations — of Justices Sonia Sotomayor and Elena Kagan — about 30 days after their predecessors announced they were stepping down from the court.
Obama faces a complicated calculus in his selection. "As the president said last night, he takes his constitutional responsibility seriously and will approach this nomination with the time and rigor required," Mr. Schultz said.
The stance against even considering a nominee puts Senate Republicans in the politically charged position of defying the US president on a crucial court opening in the heat of the presidential campaign —while also trying to hold on to their majority in the Senate.
Democrats quickly took aim at Republicans, saying a refusal to even hold a hearing would amount to an outrageous act of obstructionism. Democrats predicted that a backlash from the public, particularly in the swing states where Republicans need to win to hold on to control of the Senate, could eventually prompt reconsideration by Mr. McConnell.
"I think there is at least a 50-50 chance that pressure from the Republican Senate caucus will force McConnell to reverse himself and at least hold hearings and a vote," said Senator Chuck Schumer of New York, the No. 3 Democrat in the Senate and a senior member of the Judiciary Committee.
Other Democrats heaped criticism on the Republicans. Senator Elizabeth Warren of Massachusetts said on Twitter: "Abandoning their Senate duties would also prove that all the Republican talk about loving the Constitution is just that — empty talk."
In choosing a nominee, Mr. Obama could pick a liberal version of conservative Justice Scalia, which would fire up Democrats but would virtually ensure that Republicans would block the nomination in the Senate. Or he could choose a moderate — someone who built a career as a prosecutor or a corporate litigator, with little record on culture-war issues — which could increase pressure on Republicans to allow a vote.