Noble Energy cancels drilling in Falklands, following termination of rig contract
Tuesday, February 16th 2016 - 07:37 UTC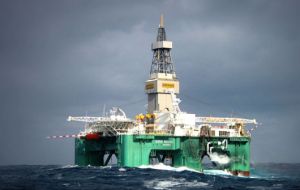 Falkland Islands based company, Argos Resources Ltd. said it has received notification from Noble Energy, the operator of license PL001 in which Argos holds a 5% overriding royalty interest, that it is exercising its rights to declare Force Majeure on the well.
Due to operational issues with the drilling rig, Noble has cancelled the rig contract, leading, in turn, to the notification to Argos of Force Majeure, the company said.
Noble had been planning to drill an exploration well on license PL001, Rhea prospect, which was due to start shortly using the Eirik Raude drilling rig, which is currently operating in the North Falkland Basin.
Noble intends to apply to the Falkland Islands Government for an extension to the current phase of the license, Argos said. The license requires the drilling of a commitment well to move to the next phase.
A new participation agreement between the parties to reflect the various changes created as a consequence of Force Majeure will replace the Farmout Agreement.
Argos Chairman Ian Thomson said: "Both Noble and the Company continue to be very positive about the exploration potential of the license area."