President Rousseff with 200.000 troops leads the "Zika Zero" campaign
Tuesday, February 16th 2016 - 07:55 UTC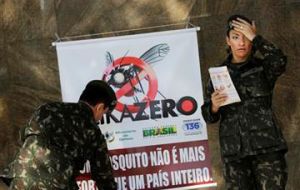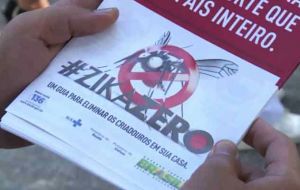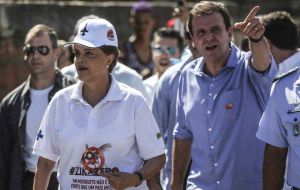 More than 200,000 troops fanned out across Brazil over the weekend to raise awareness about the mosquito that spreads the Zika virus, which has been linked to a surge in birth defects.
Aiming to reach 3 million families in a major effort, soldiers visited homes, parks and shopping malls in 350 cities, passing out pamphlets with instructions on how to prevent the accumulation of stagnant water, where the Aedes aegypti mosquito breeds.
The effort, branded #ZikaZero, is part of a larger campaign by public health officials and the military to inspect buildings for stagnant water and treat potential breeding grounds with insecticides.
Marcelo Castro, Brazil's health minister, said that the government is "absolutely sure" that Zika is behind the country's recent jump in cases of microcephaly, a condition where babies are born with unusually small heads. According to official statistics, 41 cases of microcephaly have been tied to Zika, and more than 3,800 cases are being investigated. As many as 1.5 million Brazilians may have been infected with the Zika virus.
Although the World Health Organization has yet to establish a definitive link between the virus and the rare birth defect, it is advising pregnant women to consider delaying travel to Brazil and other Latin American countries where the virus has spread. The outbreak also has raised questions about the safety of tourists and athletes at the Olympic Games, which will be held in Rio de Janeiro in August.
Highlighting these concerns, Brazilian President Dilma Rousseff joined health officials in Rio as they swept through the cinder-block shacks of a favela — one of the country's many informal settlements typically marked by poor infrastructure and scant public services. Because they allow standing water to collect, these are ideal conditions for the Aedes aegypti to reproduce.
"In the past, we won the war against yellow fever, and we are going to win the war against the Zika virus," Rousseff told reporters. "We're trying to catch up after decades of abandonment in terms of sanitation."
However according to Trata Brasil, a nonprofit organization that studies sanitation, fewer than half of Brazilians live in homes hooked up to sewage lines, and 35 million lack access to clean drinking water. Last year, the country reported 1.6 million probable cases of dengue, a virus also transmitted by the Aedes aegypti mosquito.
"The red flags were already there," Marta Suplicy, a senator who recently left Rousseff's party, said in an editorial published Friday. "The federal government is deploying the Armed Forces to assist in the fight against the mosquito that transmits the [Zika] virus. Very good. But the issue is deeper: If we don't solve the structural problems, we will keep suffering setbacks."
Luciano Pamplona, a biologist and the secretary-general of the Brazilian Society of Dengue and Arboviruses, estimates that as many as 90% of mosquito breeding grounds can be found in people's homes.
"Just the media impact is worth the trouble," Pamplona said. "Unfortunately, it's not an ongoing effort. People have to understand that we can't allow mosquitoes in our homes. Until we internalize that, we'll keep having epidemics."