Cruise crew member jumps overboard in the south of Chile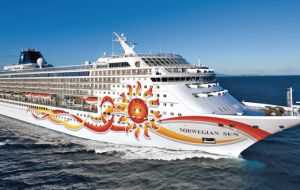 A Philippine crew member from the Norwegian Sun cruise vessel jumped overboard before reaching a port in South Chile and has been declared 'disappeared' by the Chilean navy which organized a rescue operation.
Apparently the staff of Norwegian Sun only found out about the incident in mid morning Tuesday and the surveillance cameras show him jumping at 06:40 in early morning, some fifty minutes before the vessel called at the Chacabuco Bay in the Aysen Region.
The Chilean navy received the disappearance report at 10:40 in the morning and immediately organized a rescue operation, but 24 hours later the body remained unaccounted for.
Norwegian Sun is expected to call at Punta Arenas on Thursday.
"The first phase of the operation was to send navy units to the Casma island, which is fifty minutes away from the port of Chacabuco", said Felipe Ortiz, head of operations at the port.
"The background into the case indicate that the person apparently jumped overboard at 06:40 in the morning, but this is part of the overall investigation. We will be taking testimonies from the witnesses and the captain of the vessel", added Ortiz.