Obama expected to make a historic visit to Cuba sometime in March
Thursday, February 18th 2016 - 07:08 UTC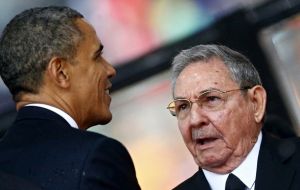 United States President Barack Obama will make a historic visit to Cuba within the next month, the culmination of his efforts to end a half-century of tensions between Havana and Washington, ABC and CNN reported late Wednesday.

The trip, the only one by a sitting U.S. president since 1928, could be announced as early as Thursday. It's bound to draw sharp criticism from Republican candidates for the White House, who oppose Obama's efforts to move the relationship past the antagonisms of the Cold War.

At a CNN town hall, Anderson Cooper asked Republican Senator and White House hopeful Marco Rubio whether he would go to Cuba. "Not if it's not a free Cuba," replied Rubio, one of two Cuban-Americans in the running for the GOP presidential nomination in 2016.

President Obama was quoted months ago that "if I go on a visit, then part of the deal is that I get to talk to everybody" and added "I've made very clear in my conversations directly with President [Raul] Castro that we would continue to reach out to those who want to broaden the scope for, you know, free expression inside of Cuba."

On Dec. 17, 2014, Obama and Raul Castro stunned the world by disclosing that they had held secret negotiations and were prepared to usher in a new era of U.S.-Cuba relations, starting with the resumption of full diplomatic ties. Embassies reopened in Havana and Washington, the United States removed Cuba from its list of state sponsors of terrorism, and the two sides took steps to increase travel and business opportunities.

Obama has undertaken many changes using his executive powers, and he indicated in the interview that he would continue looking at ways to do so in 2016. But Obama needs Congress to roll back the centerpiece of America's Cold War-era pressure on Cuba and lift the U.S. trade embargo.