Brazil biggest environmental disaster: compensation agreement could be signed this week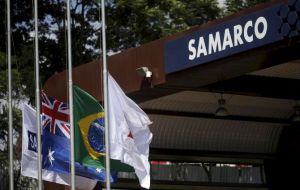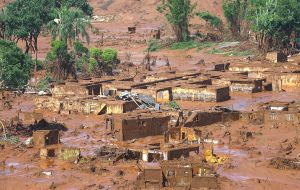 The Brazilian government expects to reach an agreement by Friday with Samarco Mineração to settle a 20 billion-real (US$4.9 billion) lawsuit for damages in the deadly dam disaster which burst in inland Minas Gerais creating a tsunami of mud and waste that killed 17 people and reached the Atlantic ocean.

Brazil's attorney general Luís Inácio Adams said that if the deal is signed by next week, Samarco, which has been shut since the 5 November accident, could resume mining operations later this year. Samarco is a 50-50 iron ore joint venture between Brazil's Vale and Australia's BHP Billiton.

"The companies and state governments tell me that the environmental issues can be resolved quickly if the agreement is signed this month, in which case it is quite possible that the company can resume operations this year," Adams said.

Brazil sued Samarco after the dam at its mine burst, killing at least 17 people and creating a wave that flooded hundreds of kilometers of river valleys in two states and eventually reached the Atlantic Ocean. The government considers the tragedy Brazil's biggest environmental disaster.

If an accord is reached by Friday, the agreement should be signed in the presence of President Dilma Rousseff and the state governors next week or by the end of the month, the attorney general's press office said.

Marilene Ramos, head of Brazil's environmental protection agency IBAMA, confirmed that the formal signing of the accord would happen before the end of the month.

Ramos sees a Samarco accord as the first step in ensuring the public that damage will be repaired or compensated and that the company will make sufficient changes to allow it to resume mining and put laid-off employees back to work.

The proposed deal with Samarco, which will have the financial guarantee of Vale and BHP, will create a foundation to manage recovery, restoration and compensation funds and manage the long-term repair of environmental damage, Ramos said.

Ramos added, though, that Samarco's initial efforts to write a long-term environmental recovery plan, which was rejected by IBAMA on January 28, will have to improve.

"We're still waiting for immediate measures, with a bigger and more effective scope, to fight the sediments that are in the rivers and reduce the intense cloudiness of the rivers," she said.

Samarco plans to file a revised recovery plan at a later date, the company said in an e-mailed response to questions.