Macri and Renzi vow to promote bilateral trade and Italian investments in Argentina
Friday, February 19th 2016 - 04:35 UTC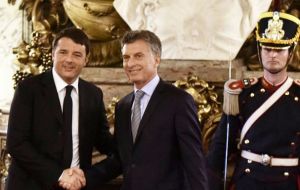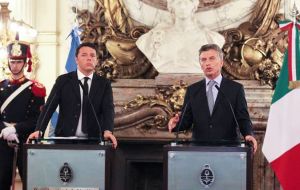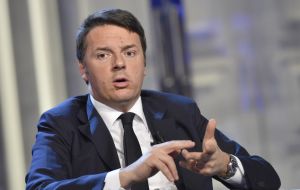 President Mauricio Macri and visiting Italian premier Matteo Renzi vowed to "re-launch bilateral relations", and emphasized the Italian interest in participating in energy, transport, gas and technology projects in the country which has become home to one of the largest Italian migrations.
"We are focused in trade and getting new investments, in renewable energy, in the railway sector. We want Italian companies to come and invest in Argentina," President Mauricio Macri said, adding that the two countries also want "to be united in the fight against terrorism and drug trafficking".
Renzi who spent just over two days in Argentina stated "it's crazy no Italian premier had visited Argentina for the last 18 years" and anticipated that "Italian Culture Minister will visit Argentina in August to coordinate a joint meeting between both countries as 300 businessmen, most of them from small and medium companies, are interested in investing".
Even when Matteo Renzi is supported by a left wing coalition in Italy, he was among the first leaders to congratulate conservative Macri on his election victory.
Furthermore the fresh attitude and recent agreement of the Macri administration of reaching an agreement with holdouts, has meant that thousands of Italian small bondholders will be paid. The operation involves 1.5bn dollars, who will receive 150% of their original capital invested in Argentine bonds. The Italian bondholders had a favorable ruling from the World Bank ICSID's, International Centre for Settlement of Investment Dispute.
The two leaders met officially on Tuesday at the Casa Rosada but the previous night Renzi was hosted by Macri and his family at his camp house.
The last Italian head of government to visit Argentina was Romano Prodi back in 1998.
"We are establishing strong trade and political relations; the visit of PM Renzi is evidence to this", underlined Italian ambassador in Buenos Aires, Teresa Castaldo.
Another issue which was addressed, according to diplomatic sources, was the long pending trade agreement between Mercosur and the European Union, which has been delayed for years on discrepancy on certain sectors such as agriculture and manufactured goods. France and Ireland lead a pack which is dragging their feet on fears the highly competitive Mercosur agriculture could mean more challenges for European farmers.
French president Francois Hollande is expected in Argentina on an official visit next week.