Argentina and Uruguay agree that integration and Mercosur are the priorities
Saturday, February 20th 2016 - 06:03 UTC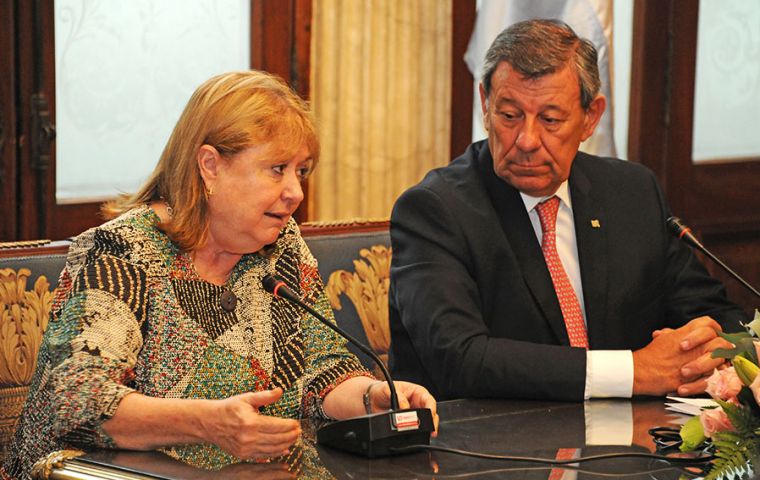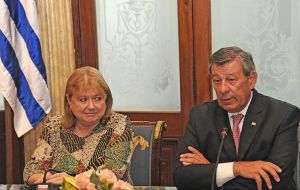 Argentina and Uruguay foreign ministers agreed to hold twice a year meetings to address all issues in the bilateral agenda but with emphasis on integration and Mercosur which are 'our main concerns'. Susana Malcorra met with her peer Rodolfo Nin Novoa in Montevideo on Friday and after a several hours meeting made brief statements with no questions taken from journalists.
"We covered all the issues we have in common in our bilateral and regional agendas and approved a work method that included meetings twice a year", said Malcorra following the meeting at the Santos Palace in Montevideo.
The minister recalled that "the first official visit of president Mauricio Macri outside Argentina was to Uruguay, when he met with president Tabare Vazquez in Colonia, and this is my first trip for a bilateral meeting here in Montevideo. This defines the priority we assign to relations between brotherly countries".
"President Macri's instructions are that all issues relative to integration with Uruguay must be on the table and be solved; we talked with my colleague about Mercosur, dredging of shared canals, ports and harbors, and advancing in a complete environmental monitoring and control of the River Uruguay", indicated Malcorra.
She added that for Argentina the Parana-Uruguay waterway, which flows into the River Plate from the continent's heartland is not only important as a canal link, but "so is the health and environmental conservation of the system".
Nin Novoa on his side underlined how significant it was that Argentina and Uruguay resume the path of River Plate friendship and commitment, which has been marked by history.
The Uruguayan official confirmed that Mercosur and integration are priorities together with trade and ports accords, and revealed they also exchanged ideas about the future of bilateral relations and the overall situation in the region.
"We've always had a special deep synchronization with Ms Malcorra", pointed out Nin Novoa, adding that it was agreed to have "exams of bilateral relations twice a year".
"Our region is a leading producer of food for the world and we must have a space where to share opportunities, sponsor trade and create wealth so our people can have the life they deserve".
Finally the Argentine official admitted that they did not have sufficient time to address all the issues, even when "protocols were light, because they can be a bit strange when your are discussing and working among friends".