Uruguay's cruise season recorded 250.000 passenger landings in three months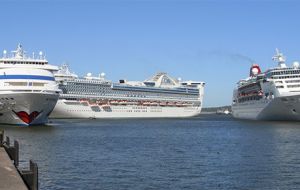 More than 250.000 passengers and crew members from cruise vessels visited Uruguay during the three months extending from November to January, according to the latest release from the country's Ministry of Tourism. The number of calls in Montevideo during that period was 58, with 156.100 people of which 112.400 (72%) came ashore.
Uruguay's other main harbor; the international Atlantic seaside resort of Punta del Este received 32 calls and 98.400 passengers of which 66.000 went ashore (67%). It is estimated that the 178.400 passengers who landed spent over six million dollars in Uruguay.
As to the origin of passengers in the quarter analyzed, 45% were Brazilian, 17% Argentines and 11% from the US.
Uruguay's 2015/16 cruise season took off on 6 November 2015 with the arrival of the Zaandam to Montevideo and is scheduled to end on 10 April with the Norwegian Sun. By then Montevideo will have received an estimated 109 calls and Punta del Este, 61.
In the last season, 2014/15 which extended from October to April the number of calls was 172 and passengers coming ashore both in Montevideo and Punta del Este, reached 332.000.