Falklands with "no big concentrations of Illex" this season, which is "worrying"
Tuesday, February 23rd 2016 - 07:07 UTC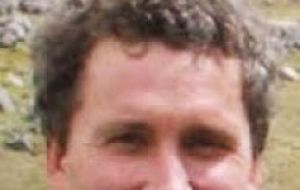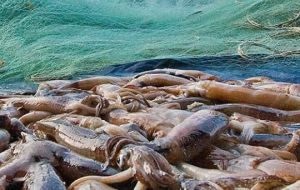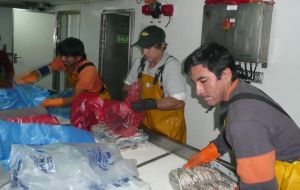 Early indications from scientific surveys are showing "no big concentrations of Illex," in the Falkland Islands waters or on the high seas, "which is worrying," said Falkland Islands Government Senior Fisheries Scientist Sasha Arkhipkin as reported by the Penguin News.
Scientist Arkhipkin said they would need to wait until February 24/25 to see whether the Illex would appear but, and "if it is not there it is a strange situation".
He explained that they had already seen that the maturation of the squid had been delayed, so in turn spawning times would be later and squid would be smaller, however the amount of squid had been large, "so it shouldn't just disappear," he said.
The Senior Scientist also expressed pessimism about the amount of Loligo to be found so far this year. He was not entirely surprised however as the point had been raised last year that the abundance of Illex might have a negative effect on Loligo as they would move in on Loligo feeding grounds and also prey on the young Loligo.
He explained that when the stomach contents of 100 Illex had been examined around 70 to 80% contained Loligo. Dr Arkhipkin confirmed that both to the north and the south of the Islands there had been "some" Loligo but relatively low amounts.
He said the Rock Cod survey was not complete but again there did not appear to be an abundance of the species. Scientific surveys were catching only 2-3 tons per day within four hours effort per day.
There were was, however, evidence of a reasonable amount of Blue Whiting and Hoki. Director of Natural Resources in his report to the Fisheries Committee noted that catches in 2015 concluded with what was a record annual catch largely due to the Illex fishery also producing a new record in terms of catch.
He said 2016 had started with high trawler activity in Falkland zones. Southern Blue Whiting catches for January had achieved the highest catches in the last five years.
He confirmed: "Part of the reason for activity in Falkland Islands waters appears to be due to the low catches on the high seas and the slow start to the high seas Illex fishery."
Dr Arkhipkin also noted that the Castelo was currently undertaking a finfish survey with seven scientists on board. The main focus was to assess the state of the Rock Cod stock. He commented: "A lot of data will be gathered on other species as well". (Pengin News).-