Falkland's Demining Project fourth phase draws to a close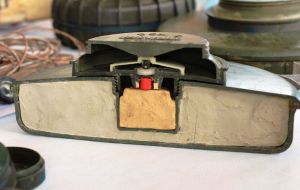 The current phase of demining in the Falkland Islands, which began in January 2015, is nearing completion and MercoPress recently caught up with the Head of the Falkland Islands Demining Programme Office (FIDPO), Guy Marot, to discuss the ongoing progress of demining in the Falklands.
Landmines are a global issue. They serve as an unwelcome reminder of past conflicts, and in many countries, pose a continued threat to civilians in post-war communities looking to rebuild. While landmines and unexploded ordinance remain a constant threat in many areas around the world, there has been a worldwide effort to reduce the issue in recent decades and limit the impact landmines have on communities. The Falklands has witnessed this increased effort first-hand, and over the past 7 years has seen many of its minefields cleared.
Despite the overall small number of mines in the Falklands – compared with somewhere like Kuwait, which is only one-and-a-half times larger in size, but has an estimated five million mines – there has been an extensive demining operation in progress since 2009 to remove the estimated 20,000 anti-personnel and 5,000 anti-vehicle mines leftover since the 1982 conflict. Funded through the UK Foreign Office, and in response to the obligation to remove mines in their territories under the terms of the Ottawa Treaty, the clearance of mines in the Falklands is now about to finish its fourth phase and see the total number of minefields reduced to 82. There were 146 immediately after the end of war in 1982.
Since 2009, both BACTEC International and Fenix Insight (known previously as CKA) have been working in the Falklands on behalf of the UK Foreign Office and have successful cleared 35 minefields. Guy Marot, of the Falkland Islands Demining Programme Office (FIDPO), recently spoke to MercoPress about the successful advances made during the current phase of demining, which began in September last year. This phase has been focussed on areas surrounding the capital, Stanley, and has progressed faster than previous phases, due to a combination of increased experience from previous phases and a better understanding of Argentine records, most of which are extremely accurate.
Many of the deminers working during this phase, most of whom are from Zimbabwe, have previous experience operating in the Falklands and have on average worked for 12 years in the demining industry. Zimbabwe is one of the most mine-affected countries in the world – over 20 people lost their lives due to mines in 2013 – and, therefore, lead many of its citizens to seek work in the demining sector. While most will return home or will head off to work elsewhere after this phase is complete, in preceding phases a few have remained in the Falklands and now permanently live in the Islands with their families.
Working for six hours, the deminers painstaking cover approximately 5 metres a day searching for mines. In some countries, such as Mozambique and Tanzania, rats have been used to sniff out landmines, but the windy weather in the Falklands prevents such techniques being used, so manpower and a few machines (flails and a tiller) are still relied upon.
Although many locals believe that demining work is unnecessary in the Falklands, as the threat is negligible, and demining funds could be better spent in places such as Zimbabwe, the recent phase has allowed the local community to access old recreational areas that have been unusable since prior to 1982. Mr Marot noted that continuous work has been done by BACTEC International and FIDPO to educate and reassure the local community about the safety of cleared minefields, and the use of recent cleared areas by local people is illustrative of the success this work is having. He continued to add that the Falklands' community has been incredibly welcoming throughout the past 7 years of demining operations and has made the Falklands a very attractive prospect for any potential deminers looking for work.
The next phase of demining has not currently been confirmed, however, work is likely to focus on areas on West Falkland, areas which are envisaged to be much more difficult to clear than the current areas being cleared surrounding Stanley.