Australian icebreaker stranded in Antarctica next to Mawson Station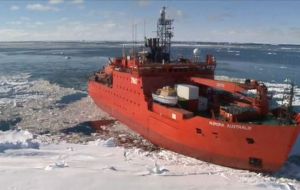 Freezing winds are continuing to hamper the rescue of 68 people from an Australian icebreaker ship stranded in Antarctica. Aurora Australis was on a supply mission to Mawson Station when it broke its mooring and ran aground in Horseshoe Harbour on Wednesday.
The Australian Antarctic Division (AAD) said 80 mph blizzards are whipping the area, and they are waiting for better weather before rescuing its expeditioners and crew.
"They will remain on the ship until conditions ease and it's safe to move them over to Mawson Station," said AAD director Nick Gales.
"We're thinking that conditions are going to ease overnight."
He said there is a breach in the hull, but it poses no risk to the stability of the vessel or of fuel leaking into the Antarctic wilderness.
"Attempts to refloat the vessel will occur when the weather conditions ease," Gales added.
"It will take a minimum of three days for the ship's crew to complete a full assessment of the ship once the vessel is afloat again."
The vessel was due to pick up 30 expeditioners at another Australian research base, Davis, who were heading back to Australia.
Australia has four stations in the Antarctic, and Aurora Australis regularly travels from the Australian city of Hobart on scientific and resupply voyages.
The ship, owned by P&O Maritime Services, left Hobart in Tasmania on January 11, undertaking marine science work around the Kerguelen Plateau region before arriving at Mawson on Saturday.
The aging vessel is due to be replaced in 2019 by a new custom-built ship. Vessels travelling to and from Antarctica often face risky conditions. In 2014, Aurora Australis helped rescue Russian ship Akademik Shokalskiy and its 52 crew.