"Falklands people voice must be heard", says Uruguayan former president visiting the Islands
Friday, February 26th 2016 - 01:36 UTC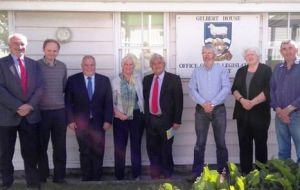 Luis Alberto Lacalle, the Ex-President of Uruguay, is currently in the Falkland Islands on a week-long tour, along with Uruguayan Elected Representative Mario Jaime Trobo. Lacalle served as President from 1990 to 1995 and Trobo is presently a Member of the International Affairs Committee.
Former Uruguayan President Luis Lacalle is currently visiting the Falkland Islands, on his first ever visit to the Islands, alongside Representative Trobo, who is returning for a third time. Speaking to local media on Thursday afternoon, Lacalle affirmed that the primary purpose of the visit was to continue and further the "very old" relationship between Montevideo and the Falklands.
In a press releases issued prior to his arrival in the Islands, Lacalle confirmed that he had been invited by the Falkland Islands Government to visit and that Uruguay's main interest in the Falklands was to increase relations, especially due to Montevideo being the nearest port to the Islands. The press release reaffirmed Uruguay's diplomatic position of supporting Argentina's sovereignty claim over the Islands, but stated that it was in both Uruguay's and the Falkland's interest to strengthen the ancient economic and cultural ties. This point was again made by Lacalle when speaking to media on Thursday, when he reiterated the sovereignty issue remained that of Britain and Argentina, but he added the Falkland's "voice must be heard".
He noted, however, that Uruguay was completely 'independent' in its decisions, welcoming a better relationship with the Falklands and an increase in trade. He added that the "ultimate goal" would be to establish a direct air-link between Montevideo and Stanley; a proposal he first made during his presidency, but one which ultimately failed due to "tremendous pressure" from the Argentine Government.
Speaking further on the recent relationship between Uruguay and Argentina, Lacalle stated that under the Kirchner governments' in Argentina relations had been difficult, but there was renewed hope now that Mauricio Macri had been elected. Jaime Trobo also previously wrote this month of the difficulty in sustaining relations with the Falklands due to Uruguay's diplomatic support for Argentina.
Falklands' flagged vessels were banned from entering Mercosur ports, including Montevideo, in 2011 in a show of solidarity for Argentina's sovereignty claim over the Falklands, but Lacalle voiced hope that under Macri these kinds of measures would be relaxed and Uruguay wouldn't have to "endure" such decisions in the future. He continued that he hoped ships involved in the Falklands, such as those of the British Antarctic Survey (BAS), would continue to use the port in Montevideo.
Prior to meeting with press on Thursday, Lacalle and Trobo both attended the sitting of the Legislative Assembly of the Falkland Islands in the morning. Lacalle stated that his experience of the Legislative Assembly was "government at its best" and that it was "charming to see the day-to-day problems [being solved] which formed the quality of life" in the Falklands.