French farmers furious with low prices and storm shops selling foreign goods
Friday, February 26th 2016 - 07:46 UTC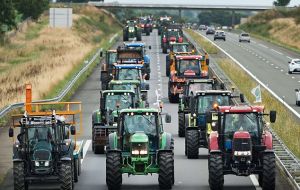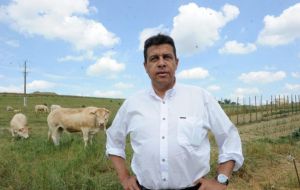 French government has been trying to defuse the week-long protests by farmers over the collapsing prices of agriculture including cereals, milk and vegetables.The depression of prices is partly due to EU agriculture ministers, who have come under pressure from the French government to ease Russian trade sanctions and to remove excess meat and dairy products off the European market.
Yet French farmers have continued to carry out the demonstrations across the country, demanding government action to strengthen price rates; from using their tractors to block traffic to burning egg boxes and hurling wellies at buildings.
On 19 February, some 100 farmers called by the FDSEA and Young farmers unions in Nimes, southern France stormed a local supermarket, filling their trolleys with foreign products to verify their origins and express their anger at falling prices.
President of France's farmer's union group FNSEA, Xavier Beulin, spoke with Prime Minister Manuel Valls to try and resolve the crisis of livestock farming, with France saying it will cut social security taxes paid by farmers, a measure worth €500m ($556m, £350m), to help ease financial pressure on them wrought by persistently low dairy and meat prices.