IMF warns global economy has weakened and is highly vulnerable to adverse shocks
Friday, February 26th 2016 - 07:49 UTC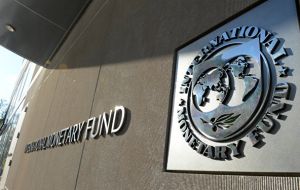 The International Monetary Fund (IMF) said the global economy has weakened further and warned it was "highly vulnerable to adverse shocks" and the weakening has come "amid increasing financial turbulence and falling asset prices".
The IMF's report comes before the meeting of G20 finance ministers and central bank governors in Shanghai this weekend.
IMF said China's slowdown was adding to global economic growth concerns. The world's second-biggest economy is growing at the slowest rate in 25 years.
"Growth in advanced economies is modest already under the baseline, as low demand in some countries and a broad-based weakening of potential growth continue to hold back the recovery," the Washington-based IMF said.
"Adding to these headwinds are concerns about the global impact of China's transition to more balanced growth, along with signs of distress in other large emerging markets, including from falling commodity prices."
The IMF also noted any future prospects for global growth "could be derailed by market turbulence, the oil price crash and geopolitical conflicts".
The agency has called on the G20 group to plan new mechanisms to protect the most vulnerable countries. Earlier this year, the IMF downgraded its forecast for global economic growth. It now expects economic activity to increase 3.4% this year followed by 3.6% in 2017.
On the bright side oil prices reversed earlier losses following a confirmation of a meeting between big oil producers in March. Venezuelan officials confirmed that Russia, Saudi Arabia and Qatar have agreed to meet next month.
Oil prices have tumbled 70% since mid-2014 due to a excess of supply and sluggish demand. Earlier this month Saudi Arabia and Russia agreed to freeze oil output at January levels. But there's scepticism over what they can achieve.
"It's the Venezuela headline that got the market excited enough to rebound, though it's baffling why as everyone knows of this meeting and that it's not going to achieve anything," said John Kilduff, partner at Again Capital, a New York energy hedge fund.
Saudia Arabia has been maintaining its level of oil production, despite falling prices, in a move designed to force higher-cost producers, (mainly US shale oil and gas producers) out of the market.
But that's been very costly for nations that rely on revenue from oil, so there's pressure for Saudi Arabia and other big producers to co-ordinate a cut in production.