Petrobras scandal becomes a mincing machine for the political system
Friday, February 26th 2016 - 06:55 UTC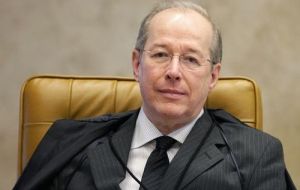 Petrobras corruption investigation keeps gobbling Brazilian president Dilma Rousseff former cabinet members, but also political figures from other leading political parties. On Wednesday the Supreme Court authorized formal investigations into Rousseff's former chief-of-staff, as well as the mayor of the country's largest city and an opposition senator, for potential corruption.
Supreme Court Justice Celso de Mello said federal prosecutors could investigate Aloizio Mercadante, who now serves as education minister, São Paulo Mayor Fernando Haddad (Workers' Party) and Senator Aloysio Nunes of the opposition Brazilian Social Democracy Party (PSDB) party.
Prosecutors said all three were named in plea bargain deals with states' witnesses in the corruption and political kickback scheme at Petrobras, but that the possible crimes raised by the witnesses were not necessarily related to that investigation.
Nunes' name in particular raised eyebrows, as he was the vice-presidential candidate running-mate of Aécio Neves, who lost the 2014 presidential election to Rousseff. Neves has used the uncovered graft at Petrobras to hammer Rousseff and pushed repeatedly for her to face impeachment proceedings.
Around 50 politicians, mostly from Rousseff's coalition, are under investigation for possibly taking bribes in Brazil's largest-ever corruption investigation. Some politicians have been cleared of wrongdoing after they were named in plea bargain testimony.
In recent days, two high-profile developments have extended the scandal further. Police arrested Rousseff's former campaign chief João Santana — who masterminded her 2010 and 2014 victories — on Tuesday for allegedly receiving off-shore payments from the Petrobras scheme, while on Wednesday it was revealed that investigators are looking into as-yet unproven claims that the Odebrecht construction firm bribed Peruvian President Ollanta Humala.
The scandal has even spread to Argentina, with the names of former Cristina Fernandez government ministers Julio de Vido and Ricardo Jaime cited by state witnesses.
On Wednesday the scandal reached Switzerland once again. Brazilian prosecutors said that Swiss authorities had arrested Fernando Migliaccio da Silva, an Odebrecht executive. The arrest could provide more evidence against Latin America's largest engineering firm and its former CEO Marcelo Odebrecht, who is standing trial for corruption and money-laundering in Brazil.
"The person concerned was arrested after entering Switzerland for a short period in order to close a bank account and move the assets in the account abroad," a spokesman for the Office of the Swiss Attorney General (OAG) said, adding the suspect had been placed in custody.
Further evidence of public opinion climate in Brazil, on Tuesday evening, opponents of Rousseff and the PT banged on pots and pans in several major cities to protest the broadcast of a political ad by the party.