Uruguay reaffirms Argentina's Malvinas claim and its commitment to Falkland Islanders 'interests'
Saturday, February 27th 2016 - 03:47 UTC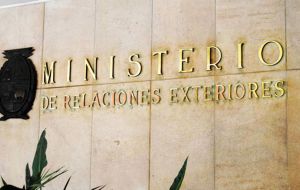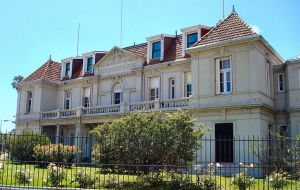 Uruguay's foreign ministry expressed on Friday its "most firm support" for the 'legitimate rights' of Argentina's sovereignty claim over the Malvinas Islands, other insular territories in the South Atlantic and surrounding maritime spaces, currently administered by the United Kingdom.
Uruguay's position, "consistent in time" and "supported by the different governments" of the country is based on "the understanding that the Malvinas Islands issue is directly linked to the territorial integrity of States" says the release from the ministry.
The document also recalls the fiftieth anniversary of Resolution 2065 from the UN General Assembly which 'for the first time' made reference to the UK Argentine controversy over the Islands as 'a sovereignty dispute'.
The release says the 2065 resolution calls on both sides to take into account the dispositions and objectives of the UN charter and General Assembly Resolution 1514 passed in 1960 on decolonization, "as well as the interests of the Malvinas Islands (Falkland Islands) people".
"The reference to the 'interests' and not to the 'wishes' or to 'self determination' is a clear acknowledgement to a situation, in fact evident that the principle of self determination does not apply".
Likewise this is the motive for Uruguay 'not recognizing' the 2013 referendum held in the Islands, in which 99.8% of voters supported British sovereignty with a 92% turnout of registered voters.
The release also recalls that Uruguay has always been a country which historically "has seriously taken into account the interests of the Islanders in relevant areas for human, economic and social development of the Islands' population".
To that respect, "Uruguay 'expects' to continue cooperating and deepening in areas of 'education, healthcare, exchange of goods and services and humanitarian aid".
Nevertheless, "Uruguay maintains its support for Argentina and the UK (countries with which it has excellent relations) to engage in a constructive dialogue and resume negotiations to find a peaceful, fair and definitive solution to the controversy", concludes the release.
Britain has had uninterrupted control over the Falklands/Malvinas since 1833 with the exception of 74 days in 1982, when Argentine troops invades the Islands, triggering a conflict in which 649 Argentines, 255 British and three Falkland Islanders lost their lives.