Esso to intensify oil exploration in Guyana's Maritime Zone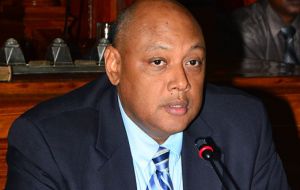 Oil exploration efforts have intensified following the discovery of commercial quantities of oil in Guyana's Maritime Zone. Esso Exploration and Production Guyana Ltd. (EEPGL) has commenced a meteorological and oceanographic survey in the Stabroek Block, scheduled to be completed during May 2018.
And March 9 will see the commencement of seismic surveys within the Canje block for a period of six months.
Minister of Natural Resources Raphael Trotman told the National Assembly that there is growing interest in Guyana's hydrocarbons, and as such, Exxon Mobil will also undertake further exploratory drilling of another well.
"The time has never been as propitious for petroleum exploration, as the low prices have led to a high availability, at good prices, of specialized skills, exploratory rigs and equipment, all of which make exploration very encouraging," he said.
The Ministry of Natural Resources will be placing significant emphasis on capacity building during 2016, with the development of a framework for a Petroleum Agency and the conceptualization of an institute in collaboration with the Education Ministry.
International Development partners have signaled a willingness to train young Guyanese to assume responsibility to lead the petroleum industry in the decades ahead.
Anticipating the finances that will be garnered from the oil sector, a Sovereign Wealth Fund will be developed. This will protect the economy from the volatile nature of mineral revenues, and help grow and modernize the sustainable non-extractive sectors of the economy.