Francis wanted to understand how Macri was going to address eliminating poverty
Monday, February 29th 2016 - 07:18 UTC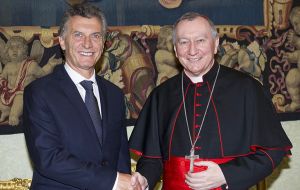 It was a 'good, enriching' meeting, a private conversation between the Holy Father and the president "which covered all the areas we expected to cover", was how the Argentine foreign minister described Saturday's 22 minutes meeting between Francis and visiting President Mauricio Macri.
"They talked about terrorism, drug-trafficking, poverty, inequality, and most of the time about the union of Argentines", revealed Susana Malcorra, who added that Francis wanted to dialogue with the president to compare notes and understand how the government, which has as its main objective eliminating poverty, can advance in something so important".
Malcorra underlined that the pope is very much interested in visiting Argentina, although this year's agenda does not allow him: "he will visit the country as soon as his agenda is free. We also talked about this with the Vatican Secretary of State, Cardinal Pietro Parolin, who expressed his desire to accompany his Holiness, soon, since he does not know Argentina".
As to the coming visit of US president Barack Obama, Malcorra affirmed that "we are going to have the opportunity of a direct and specific dialogue on issues that we are interested, with the leaders of the world. This is evidence that we are having a very serious role and diverse with all world leaders, that is also a strong signal for the private sector and those areas in which we must advance to achieve results with impact for the people, so that from dialogue we advance to facts".