Praise for Argentina's economic reforms from US, China and Europe at G20
Monday, February 29th 2016 - 07:28 UTC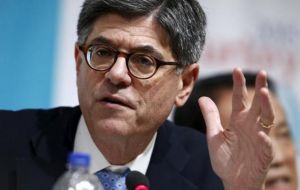 Argentina received support for its economic reforms from the United States, China and Europe during the Finance ministers meeting held in Shanghai over the weekend in anticipation of the G20 heads of state and government summit next June, according to a release from the Argentine Finance ministry.
Support seems crucial since it comes only hours before the key hearing on Tuesday with US District Judge Thomas Griesa on the ongoing negotiations of Argentina with the hedge funds and holdouts.
Although no deal has yet been reached with the leading creditors, but progress has been made, a court-appointed mediator said.
Attending the G20 summit in Shanghai, Finance Minister Alfonso Prat-Gay met with his counterparts from the United States, China, Germany, Italy, Spain and the European Union, who backed Argentina's attempt to reach a deal with the holdouts as well as the country's economic policy.
US Treasury Secretary Jack Lew welcomed Argentina's "continued efforts" to solve the litigation with the holdout funds and said he hoped "all creditors can resolve their differences" and reach an agreement with Argentina, a spokesperson from the US Treasury Department said.
"Secretary Lew and Minister Prat-Gay also discussed economic policy reforms that the Argentine government is taking to address the country's economic imbalances. Secretary Lew commended Minister Prat-Gay's focus for taking the necessary steps to move Argentina toward stronger and sustainable economic growth," the spokesperson said.
Prat-Gay had also received support from Lew two weeks ago, when he praised Argentina's "good faith efforts" to solve the debt litigation in a phone conversation.
In Shanghai the Argentine minister met with China's central bank president, Zhou Xiaochuan, and later with his German peer, Wolfgang Schuble, who openly supported the president Macri administration's reforms so far, and the decision to reach an agreement with the holdouts.
Spain's Economy and competitiveness minister Luis de Guindos underlined the significance of the meeting held with Prat-Gay expressing support for negotiations with the holdouts in New York.
Finally Prat-Gay held a meeting with Jose Angel Gurría, head of OECD, Organization for Economic Cooperation and Development, who also praised Argentina's new stance and invited Prat-Gay to a June ministerial forum of the organization, since Argentina aspires to become a member.