Venezuela pays debt to bankers but bakeries have no bread, because of scarce flour
Monday, February 29th 2016 - 09:24 UTC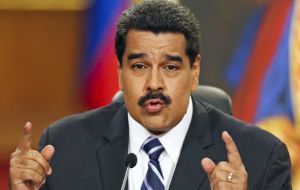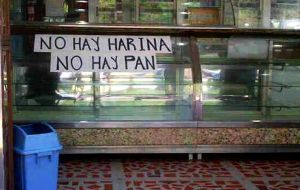 Venezuela has paid $1.54 billion in principal and interest owed to international bondholders, the Banking and Finance Ministry said Saturday. President Nicolas Maduro's administration "once again manifests its willingness and capacity to honor its financial commitments in a timely manner, demonstrating its solvency in international markets," the ministry said of Friday's payment.
That same ministry said this week that Venezuela's foreign debt rose to $42.53 billion last year, around $3 billion shy of its record-high debt level registered in 2012.
Maduro's government, which has repeatedly denied that the crisis-hit country is heading for a default, made the payment at a time when the drastic decline in the price of oil - Venezuela's main source of hard currency - has severely battered the nation's economy.
But as the Treasury honored its debt, cardboard signs in the country's main cities saying "No bread" have become increasingly common at Venezuelan bakeries. Short of dollars to import wheat and with hyper-inflation, the few bakeries that can still get a hold of a 50-kilogram sack of flour to make bread limit their sales to just two "canillas" -- thin half-baguettes -- per person three times a day.
Customers line up for bread in the morning, at noon and in the evening, and bakeries prefer to make cachitos (bread filled with ham and cheese) and pizzas, because the margin is higher.
"We are truly worried about the wheat mills being paralyzed," Federation of Flour Workers chief Juan Crespo said. Five of Venezuela's 12 wheat mills, which employ some 12,000 people, have closed, Crespo said. The remaining mills employ another 8,000 people.
An industrialist who requested anonymity said there is currently "only enough wheat for the next 12 days". The government recently announced that 170,000 tons of wheat would arrive in March, enough to cover demand for one month.